Ag Hall relishes reopening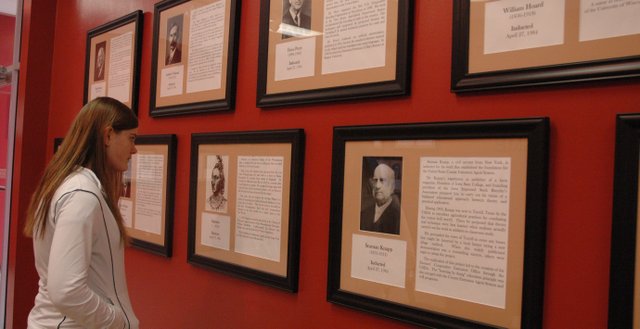 Opening day of the 2010 season at the National Agricultural Center and Hall of Fame may have been marked by temperatures in the 40s, but the visitor turnout by Tuesday afternoon had reached an impressive mid-70s.
"It's busier than what I expected on a first day, on such a chilly day," said volunteer Virgina Boedeker of the estimated 75 visitors, including 37 children from KinderCare, a daycare center in Overland Park, who had visited the center by around 12:30 Tuesday afternoon. "Things have been going very nicely. It's very nice to see so many people here."
Visitors to the facility included those from Lawrence, Baldwin City and even Oskaloosa, Iowa. Upon finding out his parents would be taking him and his brother Andrew to Kansas City for spring break, Alex Klawitter, from Oskaloosa, asked them if they could go back, for the second time, to visit the Ag Hall of Fame – the family had visited before on a previous trip to Kansas City.
Alex and his brother spent much of the morning grinding corn in the barn next-door to the Smith House.
"It's cool because you actually get to see how (grinding corn) works," Alex said.
Inside the main building's east wing, where a more up-to-date exhibit documenting the results of agriculture and farming is located, was Pam Saunders, who was visiting for the first time with her husband and grandchildren in tow.
"I really didn't know what to expect … I'm a little overwhelmed right now," Saunders said. "It's just more than I expected, and we haven't even seen everything."
In the Hall of Fame, where portraits and biographies of the men and women who have contributed to agriculture and farming are displayed, was Laurel Sewing of Lawrence, who found some real-world application from the framed portraits.
"Well, I've noticed that a lot of the biographies are intertwined with what I'm learning in history and science also, and I think it's neat to learn how they fit together," Sewing said.
Coming off of such a tough season last year, when the Ag Hall governing body battled with financial difficulties that led to the layoffs of the entire staff, the center's first day elicited a renewed sense of peace that was almost palpable. Cathi Hahner, who is heading the operations committee made up almost entirely of volunteers who will run the place until enough funds are established to begin hiring full-time staff members, said the mindset of those working at the agricultural center was made up of "a sense of calmness and relief now that there is the commitment to keep the Ag Hall of Fame operating here as a museum."
"It was exciting to see all the visitors today and let them know of the upcoming activities, rather than telling them this may be their last time to visit," she added.
Upcoming activities will include several new events to the Ag Hall, including Horse Power Days on June 12 and a 50th Birthday Bash in August, which will celebrate the center's 50th year of being in existence as a federally chartered facility. More details will be announced closer to the dates of these events.
The Ag Hall of Fame is located at 630 N. 126th St., in Bonner Springs, and is open from 10 a.m. to 4 p.m. Tuesday through Saturday, and from 1 p.m. to 4 p.m. on Sundays.