Front Street business owners laud construction crews' efforts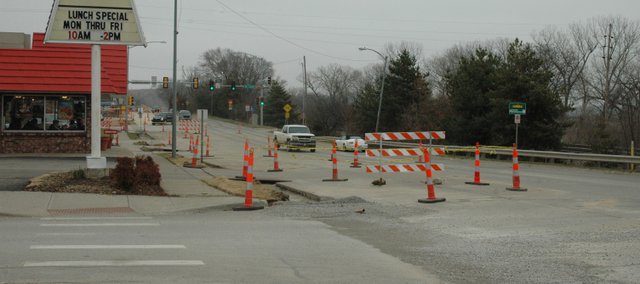 When the Front Street construction project started in October 2009, Matt Beets, Bonner Springs project manager, knew it was going to be complicated.
Between keeping traffic moving and construction on schedule, Beets has also had to deal with making sure businesses aren't being overly negatively affected by the street improvements.
"Knowing that Front Street is one of the busiest streets in Bonner Springs, it has been a challenge," Beets said.
Throughout construction on the project, which includes installation of new sewer and water mains, in addition to storm inlets, Beets said his goal was to keep as many access points open to each business. He said that while some accesses had to be closed, crews tried to work around business hours.
This was the case for Dairy Queen, 103 E. Front St. Owner and operator Steve Hammeke said the opening from his drive-thru exit on to Front Street was closed a couple mornings, but access was unblocked by 10:30 a.m. those days.
"It didn't affect us," Hammeke said.
So far, Hammeke said his business has not received any customer complaints and traffic into his business has been running smoothly.
"I'm really satisfied with the work," he said. "The only thing I can say is I wish they'd work more hours and get it done faster."
The project is expected to be completed in August.
Across the street at Midwest Motors, 215 E. Front St., co-owner Simon Gallagher, said he is also hoping the project speeds up.
"It's a long haul but I know when they're done it should be a lot nicer," Gallagher said. "Hopefully they'll get done sooner rather than later."
Gallagher's biggest complaints have to do with people cutting through his lot to get around the construction, as well as the dust caused by the work.
As a business that sells custom bikes and used cars, Gallagher said keeping his product clean and looking nice has been a challenge. He said his workers have been spraying down the parking lot trying to keep the dust at bay.
Beets said the crews from Redford Construction have been working with business owners on a case-by-case basis, making sure to lessen the construction impact. He said crews are trying to keep business owners informed about what to expect.
"It is important for all parties to work together to minimize the construction time when working in front of a business," Beets said. "By working together and addressing upcoming issues to the best of our ability, the project causes less of an affect to the business owners."
Craig Stephan, owner of Stephan's Service, 601 E. Front St., said the crew working the Front Street project has been helpful.
"The crew doing this job here is great to work with," Stephan said. "They're totally accommodating us. They're really working with us."
Stephan is finding that the combination of street projects on both Front Street and Kump Avenue is what is really hurting his business. He said those people living to the west are no longer stopping at his gas station to fill up on their way home.
"There were people from Leavenworth County that would come through all the time that I never see any more," he said.
As a way to entice more business, Stephan's Service is now offering a free drink to people who fill up their vehicle on Sundays.