Sculptor turns 'junk' into artwork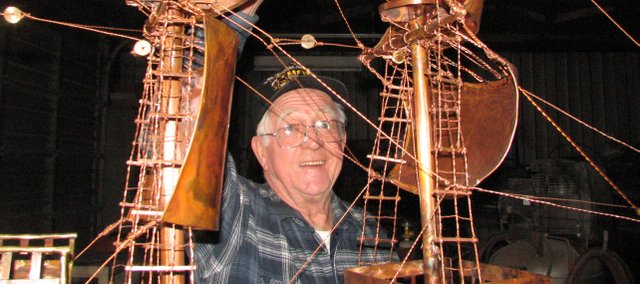 A soft orange glow escapes from a handmade wood stove as Harold Leible sorts through collections of scrap metal. His breath comes out in white puffs against the chilled air. He has spent the better part of this dark, rainy day in his garage molding, hammering and twisting old junk pieces together. To some, it might sound like a rough afternoon, but to Leible, it's paradise.
The 79-year-old retired Leavenworth County welder and construction worker delights in creating pieces of art from everyday throwaway items, and he recently finished what is arguably his most extraordinary sculpture yet.
For six months, Leible has been working on a replica of the Mayflower ship, and he has succeeded in fashioning a 300-pound masterpiece made entirely of junk copper and brass.
Photo Gallery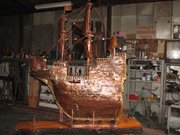 Harold Leible's Mayflower
"I'm still trying to figure out why in the world I did this," Leible said with a laugh as he gestured toward the ship. "But I'm proud of it. I like to build things. I'm a nervous wreck when I'm just sitting down. I worked construction all my life, so I'm just used to always moving, always doing something."
The parts of the ship are items Leible collected from garage sales, junkyards and generous donations from his pals around the area.
"I put the word out I was looking for copper, sheet metal, tubing, anything like that," Leible said. "Then I'd come home, and there'd be a pile of metal just sitting there in my garage. I still don't know who gave me what, but I have great friends. You just can't put a value on friends."
Leible woke early each morning during the last six months to come down to his workshop and tinker away on his ship. Each section of the ship took hours of pounding the copper into shape, torching and shining the metal until it took on precisely the right color and twisting long strips to mimic the exact look of the Mayflower's exterior. He was committed to making the real deal, down to the cabin doors opening, a metal sailor manning the helm and artillery poking through the sides and back, one of which Leible swears will actually shoot.
"I've had people ask me if it will really float, too," he said. "I tell them, 'If it floats you can have it.'"
In addition to the ship, Leible has produced numerous sculptures of eagles, coyotes and horses, some of which he's sold. One of his eagles is standing proudly, wings extended, in a nest on top of Glenwood Ridge Elementary School in Basehor. The elementary classes raised funds throughout one year to buy the piece representing the school's mascot.
Using tossed aside metal, Leible created these animal artworks, along with carvings, barbecue grilles and a running vehicle he uses to haul wood. This junk connoisseur touts his ability to assemble anything from anything.
"There's no such thing as junk to tell you the truth," Lieble said. "You tell me to make you something, I can do it. And I'll do it using all this 'junk.'"
This unique hobby has kept Leible spry, kept him "out of his wife's hair," and kept his friends and neighbors popping by to inspect his latest inventions.
"Oh, they're like, 'What's that old kook doing now?'" Leible chuckled about his friends. "Really though, I praise God every day for what I've got. I've got such great friends and family. The good Lord's been good to me."