Magician entertains crowd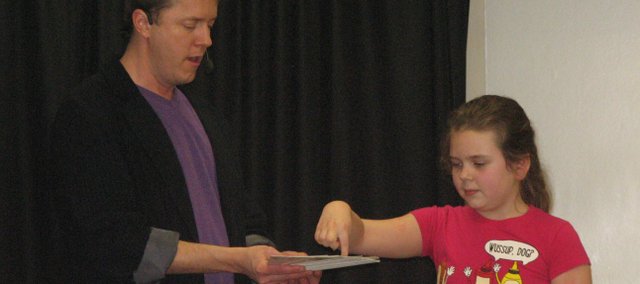 The Basehor Community Library drew a packed house March 18 with parents and children eager for a day of magic.
Magician Eric Vaughn and his wife, Kelly, visited the library that day to put on two comedic shows that kept attendees wondering what would happen next. The Prairie Village couple travel around the country with their magic duck, Bingo, entertaining people of all ages.
"We had a huge crowd this morning," children's services librarian Vickey Long said during the afternoon show. "It was awesome. People were even parking on the streets. They do put on a really good show."
For his first trick, Vaughn took a piece of paper out and tore it into pieces. He then placed the pieces on a tray, and after setting fire to the paper he covered the flames with the tray's lid. The audience was expecting him to produce a restored piece of paper when he lifted the lid, but to the delight of the children present, out popped Bingo the duck.
Vaughn introduced another act by talking about some of the questions he and his wife encountered while visiting different venues.
"We travel all over central United States, and one of the things people always ask us is, 'Do you know all the tricks?' I do some tricks, and I don't even know how they work," he said, catching a laugh from the adults in the room.
He then pulled out a long tube with two pom-poms at each end. Strings controlled which pom-poms went up and down, and Vaughn said he couldn't figure out how it worked when he split the tube in half, and none of the pom-poms were connected.
"I know you're probably sick of this trick," Vaughn said. "And you're probably very sick of hearing me say 'pom-pom.'"
Receiving agreement from his viewers, he moved onto a different trick, one that was a staple in most magicians' gigs.
"A magic show would not be complete without a card trick," Vaughn said.
For this portion of the show, Vaughn called on a young member of the audience and asked him to select a card then put his signature on the card.
"Sign your card, so there won't be another like it in the whole world," Vaughn said. "Unless he makes a habit of signing cards, and he looks like a much more interesting man than that."
Vaughn collected all the cards again, and with an imaginary gun, the young volunteer shot a balloon that appeared to have contained his card.
Bingo took the spotlight during the end of the show, as he "chewed" four diamonds into a piece of paper while he was inside a box to represent another card selected by an audience member.
For more information about Eric and Kelly Vaughn, visit magicbyericvaughn.com.