For Seatons, championships are all about family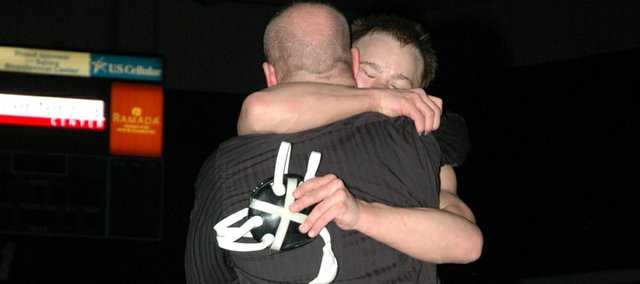 Ed Seaton's state medals are tucked away in a closet. He has two of them — both are gold.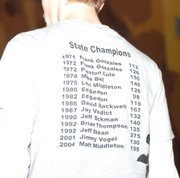 The medals were earned 30 years ago while Ed wrestled for the Bonner Springs High School wrestling team.
Symon Seaton just won a state title. The medals sit on his couch, next to the bracket that chronicles his path to the state championship. He is reveling in the moment and savoring the championship that gave the father and son a common bond.
Both men are state champions.
The medals also look the same.
"They haven't change much," Symon said.
Fitting, perhaps, for a sport that passes down tradition and typically turns yesterday's high school star into today's youth wrestling coach.
Ed Seaton has always coached his son and has been with him every step of the way.
He has been there for wins and losses. He was there for Symon's title.
LIKE FATHER, LIKE SON
Symon Seaton led 6-2 with 15 seconds left in the match.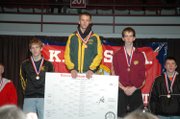 He had scored a lot of his points on defense and now was counting down the seconds and scenarios in his head.
His opponent scored two points and then another, but Seaton held on.
Then time expired. The referee announced Symon as the champion, raising his arm in the air. He sprinted toward his coach's corner and hugged his father.
"I think he was expecting a handshake; I gave him a big hug," Ed Seaton would say. "You could tell he was relieved, that he had finally done it. It was a pretty special moment."
Symon was overcome with emotion.
"I was tearing up pretty bad," he said. "It was the best feeling ever. Yeah, it was like relief that I finally did it."
Seaton had wrestled at state as a freshman and sophomore, but this season he wanted to win the title. He had wrestled since first grade, winning a couple of kids club titles, but this dream was four years in the making.
In seventh grade he learned about Ed's titles and wanted to win one of his own. He wanted to emulate the man who had introduced him to the sport.
A FAMILY AFFAIR
Wrestling is a family affair in the Seaton household. Ed Seaton won state as a high school wrestler in 1980 and 1982. He finished with a blank record in high school and was one of the best wrestlers in the state.
Symon started wrestling in first grade. His dad coached him. The first year Symon wrestled, his cousin Caleb Seaton — now a Bonner Springs High junior — already had a year of experience under his belt. Caleb got the better of Symon.
Symon worked harder and won two state championships at the club level. In seventh grade he began to think about winning state.
He wrestled as a freshman and sophomore at BLHS. He medaled both years but came up short in his quest for a title.
This season, Ed Seaton was asked to coach Symon and the Bobcat wrestling program when the position came open.
He asked Symon what he thought about it.
"If you don't want me to do it, I won't," Symon recalls him saying.
Symon, though, said he wanted his father to take the job. He thought it would be a great experience.
"I was like 'no, take the job,'" he said. "I liked it a lot better this season."
With Ed coaching him, Symon had his most dominant season. He had just a handful of losses on the season and rolled to Kaw Valley League, regional and state titles.
CHAMPION WRESTLER, COACH
Ed Seaton remembers the two state titles that he won. He still counts them as great memories in his life.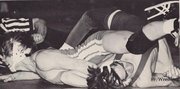 However, he said there is nothing quite like watching his son win a state title.
"I think his state championship and watching him win was more special. He has worked toward it since he was a little kid," he said. "To finally accomplish that at the high school level, in high school that is one of the ultimate goals. To see him win that was super special. I couldn't be more proud of him."
Symon probably faced tougher competition than Ed Seaton did. There are better wrestlers today, Ed said. The sport has grown.
"The competition as a whole, I think that more kids are better wrestlers," he said. "Where we had five or six kids in the state (that were great), more kids are better wrestlers today."
Some things still haven't changed. Symon said he had to maintain his weight throughout the season, and the process could be draining.
It is part of a sport his father dealt with, too.
The medals are also the same.
"I have seen his state medals, they look exactly the same," Symon said. "His look a little older, and they are in a box up on his closet."
Symon, though, isn't ready to put his away yet.
"They are sitting on my futon with my bracket," he said.
He has matches left to wrestle — and one more year to chase another state title.
ONE MORE TITLE?
Symon will be a senior next year. He plans to wrestle some freestyle events this summer and also to wrestle next year, possibly jumping up a couple weight classes. He is not yet decided on wrestling in college, but he already has thoughts on repeating in wrestling.
"I would say that is a big accomplishment to win just because dad won state," he said. "I would like to get one more to say that I tied him."