100-year-old housing district all about community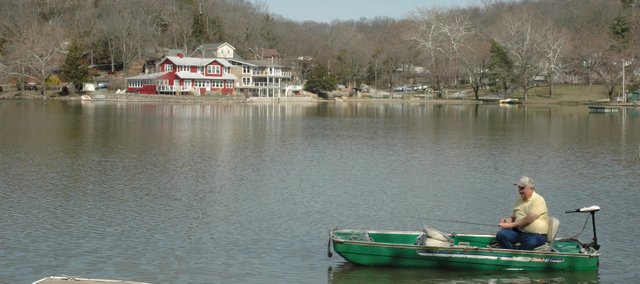 Houses have been renovated and modernized, people have moved in and moved out, but after 100 years, there is still one component of the Lake of the Forest district in Bonner Springs that remains largely unchanged.
Having lived in the housing district for 25 years, Karen Hodson knows firsthand what that component is, and she gets emotional when talking about it.
"What impressed me coming 25 years ago was the sense of community," Hodson said with tears in her eyes, noting she and her husband chose their Lake of the Forest residence as a retirement home after their children were grown. "If (only my children) could have grown up in that community … because every child has 18 grandmothers (here). People care about what the kids are doing, and if they get into trouble, their parents know immediately. It's very difficult to grow up a bad kid at the lake."
The Lake of the Forest district, listed on the National Register of Historic Places, is celebrating its 100th anniversary this year as a private housing district, though its roots go back even further than 1910. Hodson, a history buff and adviser to the Lake of the Forest Historic Preservation Society, said the area had its beginnings in about 1888, when a shallow lake, then known as Lake Evelyn, was created for the purposes of ice refrigeration.
"The Union Pacific (railroad) contracted with Swift Company Meat Packing – they needed refrigeration for their rail cars," Hodson said. "This was before refrigeration as we know it today."
The railroad built a boarding house at the lake for its workers to stay in during ice-harvesting season, but the boarding house and lake also drew people to the area for swimming and picnics during summer months.
Several years later in 1910, the area became known as Lake of the Forest, turning into a private housing district where those who moved in paid dues going toward regular maintenance.
Since those years, the community feeling of Lake of the Forest has grown, and with it, so have its traditions. Hodson said activities like dances and holiday celebrations, such as the annual Fourth of July celebration, date back to the district's formative years. The Fourth of July celebration includes such attractions as fireworks, a street dance, bike races and a golf tournament, usually lasting several days.
"Takes you months to recover afterward," said Ellen Bailey, president of the Lake of the Forest Historic Preservation Society who has lived at the lake for 46 years.
One tradition Bailey believes any small community couldn't live without — that of everyone knowing everyone else's business.
"Oh are you kidding? We wouldn't survive if we didn't have gossip," she says quite seriously but with a bit of a twinkle in her eye. "It's not hurtful gossip. I believe in gossip myself. It's what binds a community together. That and working together and trying to get things done."
And it's true, many residents volunteer to help "get things done," serving on the Lake of the Forest Board of Directors or volunteering their time at the annual spring cleanup.
More of this story can be found in the April 1 edition of the Chieftain.