Surgeries can't hold back Shawnee senior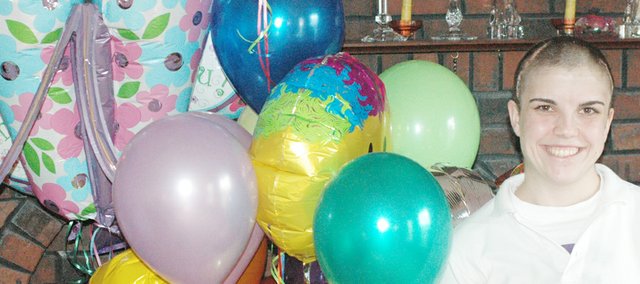 Christina Miller was just 6 weeks old and weighed 14 ounces when she underwent her first surgery.
Thirty-two surgeries later — the most recent earlier this month — the 18-year old St. Thomas Aquinas senior is getting ready to head off to college in the fall.
Born at just 26 weeks gestation, Christina and her twin sister, Anastacia, both suffered strokes right after birth. Christina suffered from hydrocephalus, the buildup of fluid on the brain, which leads to swelling. Anastacia did not suffer from the same conditions.
"They couldn't resolve the stroke and (Christina) had daily brain and spinal taps," said Cathy Miller, the twins' mom. "They put a shunt in to take the fluid out. Typically, the fluid is absorbed to the abdomen after it travels up and then down the spinal cord, but with Christina the fluid would go up but not down."
At 4 years old, Christina underwent her first cranial expansion. The pressure on Christina's skull wasn't enough to allow her to grow, Cathy Miller said.
After suffering constant headaches and fainting, Christina entered Children's Mercy again early this past January. After undergoing 10 surgeries to alleviate the pressure since being admitted to the hospital, another cranial expansion was the last option. The surgery is now common in children but dangerous for adults.
On March 11, Christina underwent the surgery again.
"I wasn't worried about it," Christina said. "I had to persuade my surgeon to do it though."
She was out of the hospital five days later.
"She has a really high pain tolerance and bounces back from adversity quickly," Cathy Miller said.
Christina's life is quickly returning to it's normal out-of-the-hospital routine.
She'll begin volunteering again on weekends at Children's Mercy, the hospital where she had the surgery.
"I really love that hospital," Christina said. "I love working with the kids in clinics. It's inspired me to be a nurse."
This summer she'll once again be teaching swim lessons in Shawnee, and in July she'll resume her post as a lifeguard, jobs she's held since she was 15 years old.
Still, she never forgets her time in the hospital or the people who support her.
"I'm more grateful for what I can do now," she said. "When I'm in the hospital, I'm stuck and being scrutinized. And I'm really grateful for all the things people have done."
Before her most recent surgery, Christina's three sisters and a few friends donated their hair for Locks of Love.
"Everyone has been very supportive," Cathy said. "I took my last vacation time when she was in the hospital in August, so the time I've taken off has been unpaid. People have really rallied around us, bringing dinners and taking the younger girls to practices and games."
On March 27 and 28, family friend Peg Coughlin arranged for Bates City BBQ in Shawnee to donate funds toward the family's medical bills. Nearly $1,200 in donations were raised for the family. Bates City donated 10 percent of the weekend purchases, while patrons could make donations of their own.
Coughlin said Bates City agreed to have donation baskets at the restaurant during the following week as well.
"The outpouring of love its amazing." Cathy said. "You couldn't pay me enough money to leave Shawnee."