FEMA

denies Leavenworth County winter emergency funds, radio grant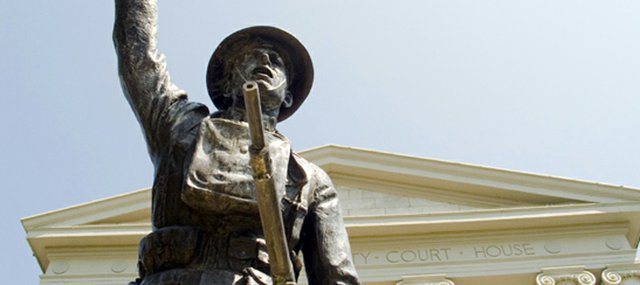 Frustrated and bewildered Leavenworth County commissioners agreed they and county staff would continue to press Federal Emergency Management Agency officials in the wake of the agency recently denying a grant and turning down an emergency reimbursement request.
During his quarterly report Monday to the commission, Emergency Management Director Chuck Magaha said FEMA removed Leavenworth County from a list of Kansas counties getting reimbursements of money spent on winter storms.
The county also is asking for congressional help to learn why FEMA rejected a $775,000 grant application to pay for new digital radios for county fire departments.
Leavenworth County was among Kansas counties Gov. Mark Parkinson listed in a declaration of emergency after a series of winter storms hit the state in December and January. That potentially made the county and local governments eligible for federal and state reimbursement funds. Had the county made the list, the federal government would have reimbursed 75 percent and state 10 percent of money spent on storm responses and repairs.
Magaha followed up the governor's declaration with paperwork to FEMA with details of how county and local governments spent $800,000 on the storms. FEMA officials started trimming away on the list, particularly spending on snow removal.
After the initial rejection, Magaha resubmitted the application with a scaled down request for $500,000. That, too, was denied, he said, because FEMA carved away at the list until it fell below the required $2.23 per-capital expenditure requirement.
What makes FEMA's decision more puzzling is that the nearby counties of Atchison, Jefferson, Douglas and Wyandotte were included on the FEMA list (Johnson County officials learned Monday that county was also excluded from FEMA funding because its population made it impossible to attain the per-capital cost threshold).
Magaha told commissioners Monday he appealed the decision and expected to hear back from FEMA in a week to 10 days.
If turned down, the county would appeal with the help of the state's congressional delegation, Magaha said.
Commissioners decided Monday to ask the county's congressional delegation help it learn why a local $775,000 FEMA grant application was denied.
The Federal Communications Commission sold the frequencies once used for analog emergency radio communications to wireless companies with the anticipation of a switch to narrow-band digital radio communications. The county did just that with its $14.9 million radio communications system, but now is experiencing communication problems with fire departments still operating with analog radios.
"We knew we were going to have difficulties in communication, and we are," Commissioner J.C. Tellefson said.
The problem for the local fire departments is cost. Analog radios cost from $600 to $800, while their digital replacements range from $1,700 to $4,500, Magaha said.
Knowing that, the county first made application in 2009 for the grant. When that was denied, the county applied a second time eight months ago.
Magaha said he leaned April 23 that application was also denied.
Meanwhile, commissioners agreed to help local fire departments by assuming the first-year costs for their new radios. County Administrator Heather Morgan said the county would have to seek financing for that commitment.
But once funding was put in place, FEMA won't consider further grant applications, Morgan and Magaha said.
And there was no choice but to go forward because officials with the 13 local fire departments were already moving ahead with the purchase of equipment, Magaha said.
Frustrating commissioners and county officials further was FEMA's refusal to explain why the grant was denied. The only information provided was there were 19,750 grant requests for the $3 billion awarded.
"I don't have a warm, fuzzy feeling there was a checklist of 44 items and we missed on 42 of them," Commissioner John Flower said, concerned FEMA made a subjective decision in awarding the grants. "Show me in black and white why we failed to get funded."
Making the FEMA decision more puzzling was the location in the county of a federal penitentiary, an Army installation and a major military education institution, Tellefson said.
Commissioners agreed to sign a letter to Sens. Pat Roberts and Sam Brownback and Rep. Lynn Jenkins explaining the issues, expressing disappointment with the decision, and asking they help get an explanation from FEMA about the denial.