Five Questions: Commencement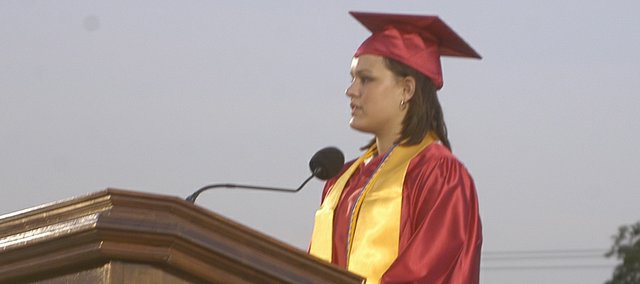 Q: What makes a memorable graduation speech? 
A: A good graduation speech must contain interesting material but most importantly be delivered with confidence and enthusiasm. The speech will be remembered long afterward if the speaker delivers the speech from his or her heart. Any good graduation speech should contain humorous anecdotes and short stories about the school year.
The speaker should refrain from talking only about him or herself because the speech is for the graduating class and its hard work and accomplishments, not those of the speaker. Yet, some sense of a personal touch is important to help the audience understand why the speaker was chosen as the commencement speaker.
Q: What topics should students consider when writing a speech?
A: Speakers can focus on several aspects of the school from which they are graduating: accomplishments made that year at the school; important events from the school year.
Speakers should offer thanks to individuals. Inspiring quotations can also be effective in a graduation speech as long as they are delivered effectively. An audience wants to be spoken "with" and not "at." The speaker should research other graduation speeches (many are on the Internet) to help with formulating ideas.
Q: How long should a graduation speech be? 
A: Student graduation speeches usually range from 5-12 minutes. A principal or an outside person would generally speak from 15-20 minutes.
Q: Is it possible to come up with an original graduation speech? 
A: Yes, and speakers should come up with a speech that is true to the speaker. If someone speaks and is not authentic, the words seem false.
Q: What emotions should a good graduation speech evoke? 
A: Students should be made to feel pride in their accomplishments. Students should be encouraged to go forth and do good work in the world. A speaker should strive to motivate the graduating class.