Mill Valley shuts out
BLHS

soccer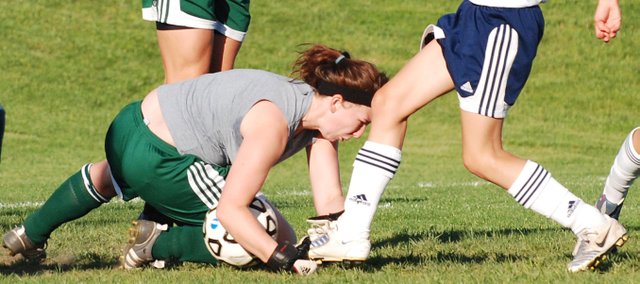 Basehor-Linwood became the fifth Kaw Valley League girls soccer team to attempt to derail Mill Valley's league title hopes.
Photo Gallery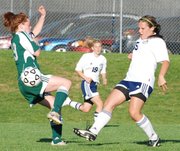 Mill Valley soccer 5, Basehor-Linwood 0
The Bobcats became the fifth KVL squad to come up short in that quest.
Mill Valley handed BLHS a 5-0 loss Tuesday at MVHS, and the Jaguars improved to 10-1 overall and 5-0 in the league. They locked up a piece of the league title with the victory, and a positive decision against Bonner Springs on Tuesday would make Mill Valley the outright champion.
The Jaguars have outscored their five league foes 28-1 this season.
Although Tuesday's final score was lopsided, the game was close for a half. Mill Valley dominated the offensive possession, but the Jaguars were held scoreless for more than 20 minutes thanks to both a strong tailwind and a stingy Basehor defensive effort that kept the Jaguars off the board.
BLHS goalkeeper Carol Smith was repeatedly tested, and she was up to the challenge time after time as she deflected the Jaguars' attempts away.
The Jaguars finally broke through in the 22nd minute when one of their young impact players, Kayla Hamner, weaved through the BLHS defense and buried a shot into the upper left corner of the net for a 1-0 lead.
The lead grew to 2-0 in the 29th minute when Hayley Seibel lofted a corner kick that deflected to Jenna Wells. Wells gathered the ball and fired it into the net.
The lead held up through halftime, but the Jaguars struck again just 49 seconds into the second half when Kelsey Wakefield attacked down the left sideline and lofted a cross pass to Miranda Lopez who headed the ball into the net.
Carlie Howe and Jenna Gilliland tacked on goals later in the half.
Rayanna Gossett recorded the shutout in goal. It's her sixth of the season.
BLHS next plays at 11:30 a.m. Saturday at home against Spring Hill.