Clarification sought on use of Register of Deeds' tech fund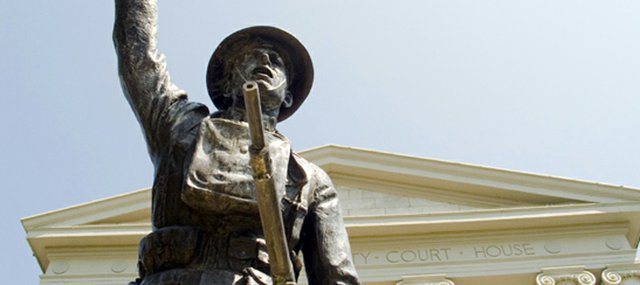 The Leavenworth County Commission agreed to wait for additional information before requesting a Kansas attorney general's opinion on the possible uses of a fee collected in the Leavenworth County Register of Deeds office.
The fee in question is a $2 per page "technology fee" for documents requested from the office. Leavenworth County Register of Deeds Stacy Driscoll said the fee generates from $90,000 to $180,000 a year in the county, depending on activity in her office.
In addition to technology for the Register of Deed's office, money from the fund has been used for part-time salaries in her office, Driscoll said. But it was also shared for technology upgrades in other departments, including $55,000 to purchase Global Positioning System equipment for the county surveyor, photos for the geographic information system Web page and maintenance of the GIS site, she said.

Driscoll said, however, that in 2011 there will be no funds to share with other departments because her department will use the fund to index old records.
Noting that the decision to seek Attorney General Steve Six's opinion came Thursday after a number of executive sessions of the county commission, one of which she didn't attend, Driscoll asked commissioners Monday if that executive session violated the Kansas open meeting act's prohibition against discussing elected officials in executive session.
Driscoll also asked why a commissioner "went behind my back" to ask County Administrator Heather Morgan to seek information on the issue from Melissa Wangemann, general counsel for the Kansas Association of Counties.
A draft of a letter from Leavenworth County Counselor David Van Parys to Six was shared Monday with county commissioners. The draft letter requests an opinion on whether technology fund revenue can be used for salaries and employee benefits of register of deeds employees involved in record keeping.
In response to Driscoll, Commissioner John Flower said the executive session was called because of concern about litigation.
Commissioner Clyde Graeber told Driscoll he expressed her concerns before the executive session and also reminded his fellow commissioners that all tech fund expenditures had been audited and approved by the county auditor. He was told neither the register of deeds nor past expenditures would be discussed, Graeber said.
Driscoll said she had no problem with commissioners wanting more information on the technology fund, but she said they should have came to her first.
Flower admitted he asked for Wangemann's input, but was unapologetic. His approach was the same he had in private business when he wanted all the information available before making a decision.
He did not seek the information in response to Driscoll's proposed 2011 budget, which he had not seen, Flower said.
Flower also questioned why Driscoll would object to seeking an attorney general's opinion. There were questions about the use of the tech fund during each of the three budget cycles he had been a part of, he said.

Still, Flower and other commissioners praised Driscoll for her past use of the funds and her willingness to work with the commission.