BLHS

graduation to say goodbye to Class of 2010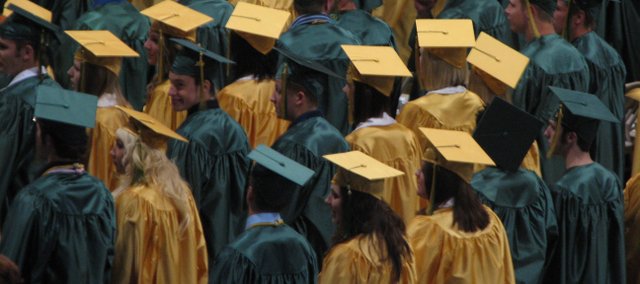 Thursday night marks the end of a journey for 154 Basehor-Linwood students.
Friends, families and USD 458 staff and faculty will gather this evening at Basehor-Linwood High School to commemorate the Class of 2010.
Principal Sherry Reeves said graduation was, to her, a revered time of the year where the students who entered Basehor-Linwood four years ago appear to have grown into young adults overnight.
"This is one of my favorite times of the year. It is so rewarding to see the accomplishments of each student," she said. "As I watch the class commence through the processional in their cap and gown, it seems as though they have matured into adulthood before my eyes. They appear confident and enthusiastic in facing the opportunities that lie ahead."
Bidding farewell to the Class of 2010 will be particularly touching, Reeves says, because she and the students began their Basehor-Linwood High School careers at the same time.
"This is the class that started at the high school my first year at Basehor-Linwood, so because of that, they will always be special to me," Reeves said. "Their freshman year was the first year for our student spirit group called 'Gang Green.' Participation in Gang Green has helped unite the student body to show strong school pride and involvement."
During their four years in high school, these seniors have achieved tremendous accomplishments and demonstrated characteristics pivotal to the growth of the school and student body, Reeves said.
"We have more activities, clubs and success shown in academics, as well as athletics than at any other time in the school history, which includes 16 titles in the last four years," Reeves said. "This kind of success does not take place without that commitment to each other and loyalty to the school and is part of creating an inviting school atmosphere. They have been an integral part of the reason we have seen impressive growth in our Kansas State Assessment scores. Their academic success is shown in the $840,000 offered in scholarships."
Graduation will begin at 7:30 p.m. in the high school gymnasium, and attendees are encouraged to arrive early for parking. High school senior Matthew Lancaster will deliver the senior address during commencement.