Dream leads former bookkeeper to open alteration shop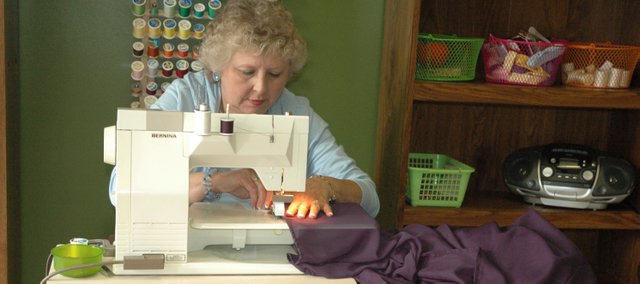 After 19 years in the same place, DiAnne Berning is ready for a change.
Berning opened her own business, DiAnne's Alterations, on May 3 after retiring from her position as bookkeeper at Bonner Springs High School — a position she was in for almost two decades.
"Probably around the first of April I started thinking about (opening my own business), and I was praying about it and thinking more," said Berning, who officially retired on April 30. "And it just hit me, it's time to go. It's time to do what you've always dreamed about."
In her new shop, 128-A Oak St., Berning will not only provide clothing alteration services, but also sell her own handmade items such as baby blankets, scarves, needlepoint coasters and "whatever crafty idea I come up with," as she said.
Berning brings to her business years of experience. For the past eight years, Berning has owned and operated out of her home Cozy Quilts, a nonprofit business where she makes quilts to donate to needy children at area hospitals. She has also been working with a needle and thread for most of her life.
"I used to make my daughter's clothes, I made mine. Just a little bit of everything," she said. "Anytime there needed to be anything mended in the family, I was kind of like the go-to person."
Berning says she likes the idea of opening her business on Oak in part because the street name represents those qualities her parents always saw in her: steadiness, strength and fearlessness.
"I really wasn't afraid to try anything," Berning said of herself, suggesting this new adventure may not be the last she takes on. "Because I don't give up easy, and I just knew I needed to do something with my crafts and use my talents."
Goals for the coming year include providing her customers with a positive experience that will keep them coming back time and again. Berning says she's happy to fill a need in downtown Bonner that will work well with other businesses along Oak Street.
"I looked around Bonner and I thought, 'What can we do to improve Oak Street, get another business going?'" Berning said. "I wanted to find something where I wasn't in competition with any of the other boutique shops."
And with her husband, Patrick, managing Berning Tire, Inc., at the opposite end of the street, Berning says she finds the symmetry of their two locations simply delightful.
"I think it's kind of neat my husband's on one end of Oak Street, I'm at the (other) end of it," she said. "We joke about it. You start Oak Street, I end it."
DiAnne's Alterations is open from 9 a.m. to 5 p.m. Monday through Friday, with some flexibility — Berning says she'd be willing to come in on a Saturday for those customers who can't make it during the weekday. For more information, call (913) 422-1301.