Event secures 91 inches of hair for non-profits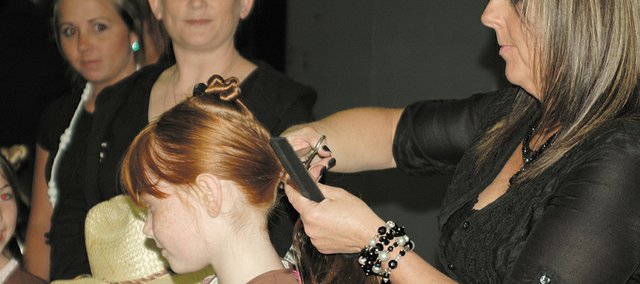 Shawnee — The scissors were sharp and the crowd was chanting "cut, cut, cut" Friday afternoon as 91 inches of hair was collected at the Pony Tail Roundup.
Nine volunteers, two moms and seven girls, showed their courage and character as they shed their ponytails for Locks of Love and Pantene's Beautiful Lengths at the Horizon Elementary all-school assembly.
The Pony Tail Roundup began as a community service project for Girl Scout Troop 5748, comprised of 10 girls from Mize and Horizon elementary schools in De Soto USD 232.
Jolene Hayes, troop leaders, said the girls brainstormed a list of possible community service projects in January.
"They liked this one, so we decided to talk to their principal about the idea," Hayes said.
Soon after, Horizon principal Kim Gracy came onboard, and the planning began. Mothers of troop members were able to secure help from stylists at Zenergy Salon, Styling Studios and Remiez Salon.
"We put an announcement in the school news for people willing to donate their hair," Hayes said. "Some of the girls had friends that volunteered and two girls in our troop donated."
The troop chose to donate a majority of the hair to Locks of Love, which provides hairpieces for financially disadvantaged children in the United States and Canada suffering from longterm hair loss diseases.
However, a few volunteers didn't meet the 10-inch donation minimum, so Pantene's Beautiful Lengths was contacted. Pantene's Beautiful Lengths donates hairpieces to women who have lost their hair from cancer treatments. The minimum length requirement is 8 inches.
"I feel really happy to be able to make someone else feel better that they can have hair now," said Kati Gribble, a Mize third-grader.
Kati and Josie Hayes, a Horizon third-grader, each donated 10 inches of hair for their troop on Friday.
"I donated my hair because I wanted to help people," Josie said.
While it only took about a minute to cut off their ponytails, Josie and Kati said it was hard to get used to having short hair.
"It feels weird because I'm used to having long hair," Josie said, while running her hands through her new bobbed haircut.
But the girls said the feeling wouldn't last long, especially since they knew it was for a good cause.
During the assembly, Horizon counselor Kim Gasiorowski praised the girls for showing true character.
"I've donated my hair twice for Locks of Love," Gasiorowski said. "These girls have inspired me to continue to donate. They have shown the ultimate responsibility and caring by being so generous to give their hair to others."
Hayes said she hoped the day would stand out for the girls for a lifetime.
"I hope they always remember how it felt to do something so selfless," she said. "I hope this shows them that they can do something big, that they can bring their whole school together. This was truly driven by the girls."
Josie and Kati are already talking about holding a roundup next spring.
"I want to do it again someday," Kati said. "Maybe next year when my hair's all grown out again."