Museum celebrates extension unit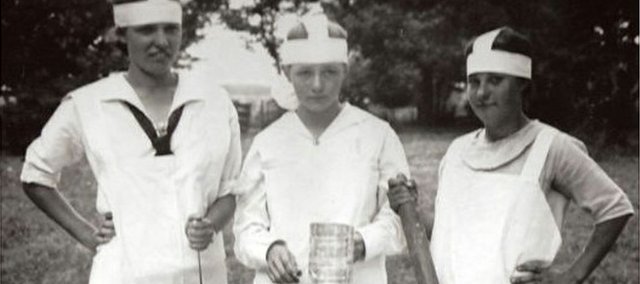 The Basehor Historical Museum is paying homage to an extraordinary group of women.
With a Saturday presentation and class and a standing exhibit, the museum, 2812 N. 155th St., has commemorated the Glenwood Extension Homemakers Unit (E.H.U.), which started as the first mother-daughter canning club in the United States.
The unit was founded in 1914, the museum exhibit explains, by Bernice Hanway Timmons and her daughter, Helen Timmons Foster. The two women created the club as a way for mothers and daughters to bond and learn new ways to can foods because most women in 1914 did not find their current canning methods effective.
Photo Gallery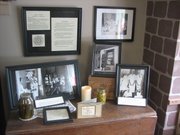 Glenwood Extension Homemakers Unit
Ladies old and young met monthly to can food dressed in neatly pressed white smocks and headbands. They were known to turn out boxes and boxes of mason jars each meeting. But amidst the canning, the club quickly transcended into something more: a time for women to share stories, songs, gardening tips, quilting patterns and recipes and an outlet for helping people in the community.
"These women were really amazing," museum director Carla Crawford said. "They started something so huge, there's so much history there."
To honor the group and celebrate Mother's Day weekend, the museum opened its newest exhibit and conducted a canning class at the Basehor Veterans of Foreign Wars Hall. During the class, participants were shown a canning demonstration and were able to help seal a few items tightly into glass jars. Bonner Springs resident Rae Sedgwick, who is the daughter of Helen Timmons Foster, and Anna Mary Landauer, former president of the E.H.U., were working right along with the class attendees.
"It went really well," Crawford said of the class. "We had about 25 people come, and it was a lot of fun for everyone. It was so neat to have Rae there because her mother was one of the women who started it all."
Throughout the 1920s and 1930s, the unit received a lot of attention as Bernice Timmons traveled around the country promoting extension work and the latest canning process. In her 29 years with the organization, she represented the Glenwood E.H.U. at several women's conferences in the United States, including one in Washington, D.C.
A 1927 newspaper article found in the museum exhibit contains an interview with Timmons in which she described the unit's progression.
"The Glenwood club is leading the way for the homemakers clubs of the state to be of more service to their communities," Timmons said in the article. "Our club retains broad and helpful ideas of the old-time ladies aid. We have 37 members and are breaking our necks to bring it up to 40. We want every woman for miles around to belong to the club."
The Glenwood women were paramount in volunteer service, renovating an old church into a community center, giving aid to families in need and providing an empowering, valuable enterprise to the female population.
The Basehor Historical Museum's Glenwood Extension Homemakers Unit exhibit will be on display through May. Visitors are welcome during the museum's business hours, which are 9 a.m. to noon Tuesdays, 1 p.m. to 4 p.m. Thursdays and 9 a.m. to 2 p.m. Saturdays. For more information, call the museum at (913) 724-4022.