Program offers free clothes to needy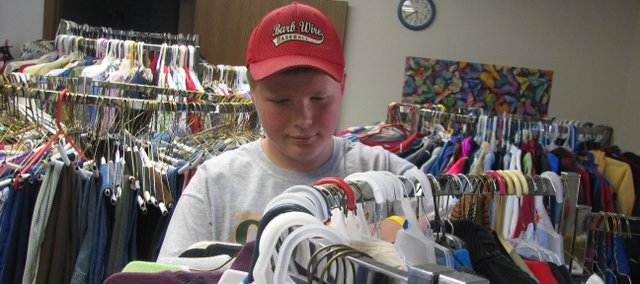 Families in need in the Basehor-Linwood community have a place to shop for clothes thanks to one eighth-grader.
Basehor-Linwood Middle School student Avery Fliger has created a community clothes closet, at which all ages and genders can acquire free clothing.
The idea for the clothes closet was born from Avery's needing to complete a service project to be confirmed at Holy Angels Catholic Church. He knew he wanted to do something different for this project, something that would truly benefit people in the community.
"Me and my mom just kind of came up with it," Avery said. "I was trying to think of something, and (a clothes closet) was one of the things my mom thought of."
After some preliminary planning, Avery consulted the church to see if he would be able to use some extra space in one of its Sunday school buildings as the site for the closet. With the green light given, he set out to spread the word with announcements in the church bulletin requesting donations and fliers for Basehor-Linwood students to take home. The response was larger than he ever dreamed.
"At first, we got too much," Avery said with a laugh. "It took so long to sort through all the clothes."
"We just had stacks and stacks of clothes," Teresa Fliger, Avery's mom, added, "and boxes piling up all around us. People really poured their hearts out."
Piles of donations meant Avery needed to seek materials for sorting and displaying the clothes. He and Teresa went to Argentine Thrift store and Tickled Pink Cleaners in Kansas City, Kan., leaving with a sizeable collection of clothing racks and hangers. It seemed Avery's desire to help others was becoming infectious. Both companies donated all the supplies, and Avery's two younger brothers pitched in to sort clothes. The church secretary Joyce Bowlin also lent a hand, accepting donations and creating a donation tax receipt, and parish member Fred Randolph volunteered to construct built-in racks and shelves for extra storage.
"We said 'help,' and people were there," Teresa said. "We really appreciated that generosity."
The result of the five-month combined effort was a well-organized little shop where people can find all types and sizes of free clothing, from adult and infant wear to shoes and belts. But upon opening the closet's door in February, Avery and Teresa found the response far more modest.
"We've only had 10 families so far, I think (come for clothes)," Avery said. "People just aren't showing up."
Teresa said some reasons for the minimal interest might be a lack of marketing the closet, a need to reach people in poverty outside Basehor-Linwood and a feeling of embarrassment attached to needing the free clothes.
"I can imagine it's hard to ask for help," Teresa said. "But this project was done with the mindset of helping people. We want to support people. We don't want people to feel alone or isolated or unsupported or like no one cares, because we do care."
Whether a flood of people begin coming to the clothes closet or it remains the same, Avery says he has gained extraordinary knowledge from his confirmation project.
"I've learned a lot about the Holy Spirit and about helping people," he said. "I know how important it is to help others."
The clothes closet is located next to Holy Angels Father Quinlan Hall, 15410 Leavenworth Road. Interested shoppers can contact Teresa Fliger at (816) 726-5614 to schedule an evening or weekend appointment to visit the closet.
"I really hope people start coming," Teresa said. "We have so much here to give, and we just want people to take that step."