Senior Center 'feels like home' to new director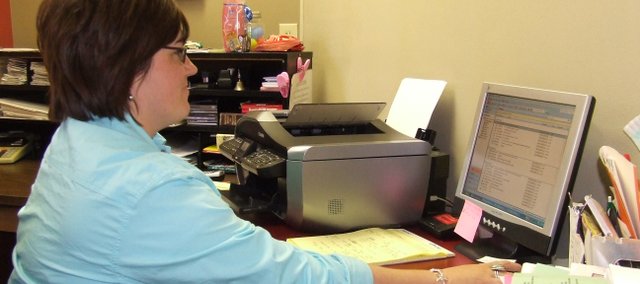 For Tina Ashford, taking over as director of the Bonner Springs Senior Center is not about what shoes she has to fill.
With a predecessor such as Nancy Johnson, who died suddenly on March 6, Ashford said she's had several people make mention of the big task she has ahead. But that's not how she sees it.
"I'm not trying to fill Nancy's shoes," Ashford said. "Nancy was a unique individual, and I wouldn't want to try to fill those shoes."
What she wants to do instead is give the senior community of Bonner Springs a place they can call their own.
"We're going to have a lot of the same programs but I would like to add my personality, my flare," she said. "But in the end, it's not my center, it's the senior center. What (the seniors) want is my focus."
Ashford joined the senior center team as a part-time assistant to Johnson in May 2009. With Johnson taking on more responsibilities in the city's tourism department, Ashford said she was brought in to lend a helping hand.
"I was very fortunate to have been here and to have worked under her," Ashford said of her time with Johnson.
When Johnson passed away, Ashford said having been with the center for so long helped with the transition. And when the city came to her to offer the director position, she knew she didn't want to leave anytime soon.
"Everyone has been very supportive," Ashford said. "I'm just grabbing the bull by the horns and getting started."
Work has already begun, Ashford said, on plans for Tiblow Days, which will be Aug. 27 and Aug. 28, and the center's annual spaghetti dinner, which will be Aug. 6.
Ashford said she hoped to bring in new programs and activities for the center's current members to try, but she also was looking at the opportunity of expanding and bringing in a younger generation of seniors.
As time goes on, Ashford said it would be important for the center to adapt to its new members. Being aware of this fact, she said, will give the center an edge as new programming takes a look at how seniors are wanting to spend their time these days.
Some of her ideas include offering computer training and adding more intergenerational programs because, simply put, "these seniors want to be active with their spouses and grandchildren."
"Bonner has a lot to offer seniors," Ashford said. "From housing to transportation, with the Tiblow Transit, and of course the center. We're very senior-friendly here."
As Ashford dives deeper into senior center programming and responsibilities, she said she's loving every minute. She said the center's members have made her feel like family and she loves hearing their stories.
"I plan on sticking around," Ashford said. "It feels like home here."
The Bonner Springs Senior Center is located in the lower level of the community center, 200 East Third St. For more information about what the center has to offer, call (913) 441-0169.