Surging 'Cats split with Jaguars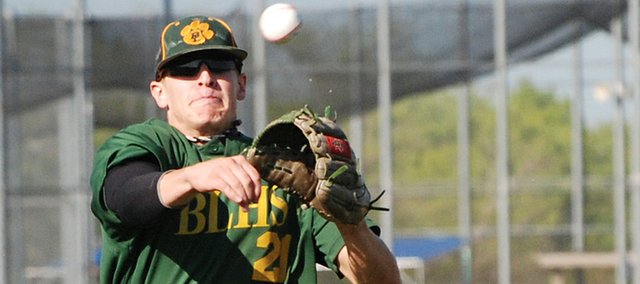 The fifth inning meant everything to the Basehor-Linwood baseball team on Tuesday.
Photo Gallery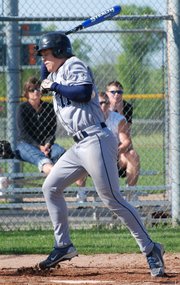 Mill Valley-Basehor baseball split
In game two of a doubleheader against Mill Valley, the Bobcats were looking for a lift. They had lost 12-1 in the first game and needed a victory to salvage a split.
Throughout the game, coach Dave Svoboda said the team just needed an inning to get rolling and snap back to its positive play that had seen BLHS win five consecutive games.
In the fifth, Svoboda got what he was looking for.
Austin Stubbs led off the inning with a walk. Then Dylan Belt was hit by a pitch.
With runners on first and second, Tim Stephens executed a sacrifice bunt that rolled 12 feet in fair territory on the third base side of the pitcher's mound and stopped. When the Jaguars finally fielded the ball, they had nowhere to make a play and the bases were loaded.
"Tim Stephens' sacrifice bunt was the huge play of the night," Svoboda said. "He said it was the bunt of his life."
Two runners came around to score on a base hit by Destry Bryan. Brandon Leppke followed with a double to drive in two more runs. Later, Ryan Lawless singled to score Leppke and gave the Bobcats a 5-3 lead.
Hoping to ice the victory, Svoboda called on ace Tyler Henley to close out the game. It was a risky move. Henley hadn't pitched since April 28 due to an arm injury, but he quickly regained his dominant form by retiring six of the seven batters he faced.
The appearance was another step in Henley's recovery, and the Bobcats wanted to see how he felt before regional competition begins next week.
Bryan started the game for the Bobcats and threw well, Svoboda said. Bryan wasn't overpowering, but instead allowed his defense to make plays behind him.
Mill Valley led early after scoring two runs in the third inning on four hits. Al Wilson drove in a run with a single.
The Jaguars added one more run in the fifth inning. Kyle Brunson singled and scored on a single by Jacob Spring.
Jaguars coach Jeff Strickland said his team played 13 good innings of baseball on Tuesday, but the fifth inning of game two was the Jaguars' lone hiccup.
Basehor-Linwood's offense didn't show a lot of life until that critical inning. The most intriguing part of the Bobcats' offense during the first four innings was Lawless gaining the attention of multiple pick-off attempts at first base.
Jaguars starting pitcher Luke Jenkins threw to first base numerous times trying to catch Lawless off guard. Svoboda said it played a pivotal role in the victory.
Svoboda estimated the throws took pitches off of Jenkins' pitch count and helped to tire him the next inning, enabling the Bobcats to get their offense going.
Svoboda applauded Lawless' play ability to attract the pitcher's attention.
"That is fundamental baseball, and that type of play will be big in regionals next week," Svoboda said.
Jenkins eventually was relieved by Mark Biesma in the fifth inning.
With the win, Basehor-Linwood erased the sting of a first-game loss.
Basehor-Linwood hitters struggled to get much going against Montana Kiler in game one. Kiler allowed just four hits.
BLHS scored its only run in the first inning when Lawless singled and later was driven in with a double by Henley. MVHS then scored 12 unanswered runs.
The Jaguars scored in every inning but the first, pounding 12 hits and earning eight walks to go with three hit batters.
"Give Mill Valley all the credit and accolades, the kids they threw out there tonight are deserving of all the credit and accolades they (get)," Svoboda said.
Basehor-Linwood (11-7) will close out the regular season at 4 p.m. Friday at Turner. The game originally supposed to be played on Monday, but it was rained out. It was then rescheduled for Wednesday but was again rained out.