Leavenworth County Commission to seek attorney general's opinion on use of register of deeds' fee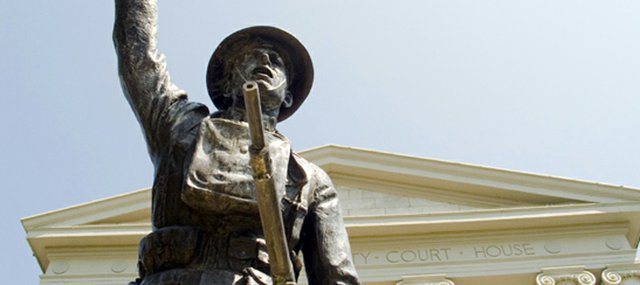 Leavenworth — The Leavenworth County Commissioner agreed Thursday to request an Kansas attorney general's opinion on the use of a technology fee collected in the register of deeds office.
The decision came with the blessing of Leavenworth County Register of Deeds Stacy Driscoll, who had questioned the need for the letter at Monday's commission meeting. At that time, she also said a commissioner went behind her back to get information on the use of the technology fee from Melissa Wangemann, general counsel for the Kansas Association of Counties.
Driscoll sounded a conciliatory note Thursday, saying she understood Commissioner J.C. Tollefson's comments Monday on the tightness of the 2011 budget and those of Commissioner John Flower on the need to use money in the best way for the county.
"If this is what the board wants to do, I don't have a problem with it," she said.
The Leavenworth County Register of Deeds and all others in Kansas charge a $2 per page technology fee on all documents requested from the office. The fee generates from $90,000 to $180,000 per year in Leavenworth County, depending on the amount of activity in the office.
The fee has been used to upgrade technology in the register of deeds office, but also has been shared for technology upgrades for other county departments. In addition, revenue from the fee has been used to pay for the salaries of some part-time workers in the register of deeds office.
Wangemann provided County Administrator Heather Morgan information on the use of technology funds that prompted a number of county commission executive sessions May 6. After the last of the sessions, it was agreed to seek Kansas Attorney General Steve Six's opinion on whether technology funds can be used for salaries and employee benefits.
Commissioners delayed action on the letter Monday when Driscoll said Wangemann would provide further information on the issue.
On Thursday, Driscoll said Wangemann "didn't want to get involved in the middle" of the discussion. She did provide background on the fee, which she said the Legislature specifically put under the control of each county register of deeds so that it would be used for its intended purpose and not siphoned off by county commissioners.
Driscoll did ask Thursday the letter be amended to request an opinion of the use of salaries and benefits of employees in the register of deeds office responsible for technology or who made use of technology in record-keeping tasks. That was how the fund was being used for salaries in her office, she said.
It was decided, however, to keep the language unchanged. County Counselor David Van Parys said the preferred to keep the question board and said the limited uses Driscoll described were referenced in an earlier passage.