Bonner Springs barbecue team prepared for ultimate taste test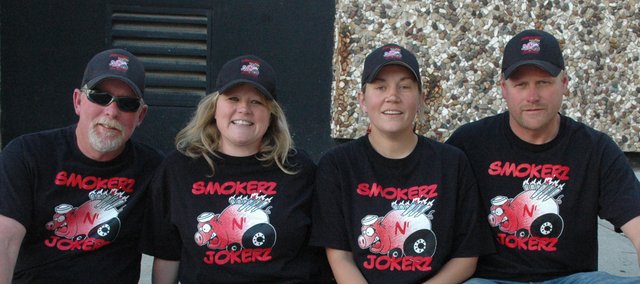 Tangy and sweet, but with a "kick in the end" is how members of Smokerz N' Jokerz would describe their own blend of homemade barbecue sauce.
The Bonner Springs-based barbecue team created its sauce through a yearlong process of barbecue cookouts and blind taste testing with friends and family.
"It gives you what you want," said member Katy Langford of the barbecue sauce, the ingredients to which she won't reveal. "You want that sweet, but you want that kick."
This weekend the team members will put their sauce to the test when they compete in the Great American Barbecue Festival at Capitol Federal Park at Sandstone. Like the close to 200 barbecue teams already registered to compete this year at the festival, members of Smokerz N' Jokerz say they want to come home winners. But more importantly, they simply want to have a good time doing what they love.
"We go in for the fun and if we come away with a ribbon, if we're anywhere in the top 10, we're excited about it," Katy said.
Smokerz N' Jokerz is comprised of husband and wife Katy and Bill Langford and husband and wife Bret and Ronda Clark. The four have known each other for 14 years, since Katy and Bill, who is Ronda's brother, began dating. The two couples have spent the years camping and grilling out together, which is how their passion for barbecue took hold.
"We've always cooked out, smoked … you always do that stuff when you're camping," Katy said, "and we've always been around it, so we decided to take it to the next level, I guess, by taking it to the barbecue competitions."
That next level turned into Smokerz N' Jokerz, which formed in 2009. Katy and Ronda began working on a combination of ingredients that would turn into the perfect sauce, playing host to barbecues about twice a month and inviting people over to try the different blends they had concocted.
They say they are happy with the current chosen blend, but are always working to reach that zenith of barbecue sauces.

"We get together almost every weekend to do another test run," Katy said. "Everything's practice makes perfect, and we're looking for perfection. We want to be perfect, and we will be one day."
The Great American Barbecue festival won't be the first competition for Smokerz N' Jokerz. The team earned a fourth-place win for ribs during last summer's Smokin' On Oak barbecue contest in Bonner Springs and a People's Choice and seventh-place win in pork butt during this year's Brew, Blues and BBQ competition in Lansing. At this weekend's festival, the team will compete in the open contest, preparing a variety of meats that includes pork butt, chicken and brisket. Ronda says expectations are high.
"Every time we go into competition our expectation is to have fun," she said. "Every one."
Smokerz N' Jokerz will compete with teams from across the country during the Great American Barbecue Festival, going on from 3 p.m. to 11 p.m. Friday and from 9 a.m. to 5 p.m. Saturday.
Activities will include a Kidz Que, where children will have the chance to compete with help from their parents, smoking demonstrations for the public to take part in, a carnival, music, free samples and fireworks.
Admission is $10 per day and $15 for the whole weekend. Children 12 and under get in free.
A full schedule is available at bonnersprings.com. Registration for barbecue competitions, including the Kidz Que, is still available.
To register, or for more information, go to thinkbbq.com.