Class of 2010 says its goodbyes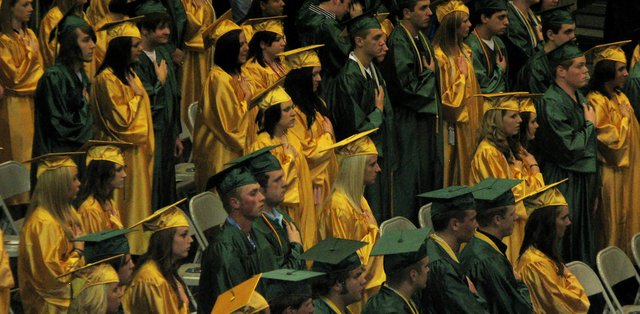 A 12-year voyage for Basehor-Linwood students ended with one memorable night.
After more than a decade in elementary, middle school and high school classrooms, the Basehor-Linwood Class of 2010 shared its finale Thursday with friends, teachers and family.
Principal Sherry Reeves began the commencement expressing the honor she felt in leading the high school and witnessing the accomplishments its students had made throughout the years.
"As principal it gives me great pleasure to preside over this ceremony tonight," Reeves said. "Thank you to the Board of Education, Superintendent David Howard and Assistant Superintendent Mike Boyd for the opportunity to serve as principal of the very best high school in the state of Kansas."
Reeves went on to say a few words about the 157 graduates before her, students who entered the high school the same year she began her career as head of the school.
"Thank you, Class of 2010," Reeves said. "Working with you has been a truly rewarding experience. You are very near and dear to my heart. Dream big. Go after those dreams step by step. This is step one, and you have all the control of what happens on your next step."
After some entertainment provided by the Basehor-Linwood High School choir, Matt Lancaster took center stage to deliver the 2010 senior address. Lancaster, like Reeves, started his speech with a "thank you."
"To the family and friends, teachers, administrators … here tonight, we're finally graduating, and honestly, we couldn't have done it without you," he said.
Lancaster led his peers back through their journey as Bobcats, starting as frightened freshmen, ending as confident young adults who had everything to offer the future they were facing.
"It's up to us now," Lancaster said. "This ceremony is the beginning of the rest of our lives. We, the graduating Class of 2010, have the whole world at our fingertips. Let's make the most of it."
As Lancaster once again found his seat, the seniors began filing up to the stage to receive their diplomas with the audience clapping, cheering and whistling to acknowledge each graduate in the moment.
Brandon Ogden, Kelsie Weiser and David Wynn left their fellow graduates with a parting poem entitled "Ending at 12, starting at K." The light-hearted piece highlighted both the humorous and serious parts of high school that made being students at Basehor-Linwood High School so special.