Cleanup gives Basehor residents opportunity to pursue dreams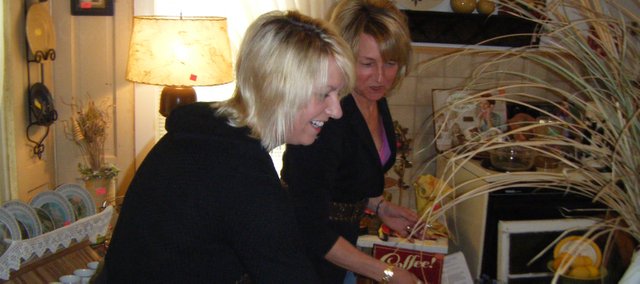 What started as the need to get rid of some old family belongings has become a small business venture for two Basehor residents.
Marilee Stubenrauch and Michelle Drew opened their weekend house sale after Stubenrauch's father, Jerry Mussett, asked for help cleaning out his house and barn located on 155th Street across from Fairmount Township Fire Department. When she began sorting through the keepsakes resting on her parents' land, an idea was born. She enlisted the help of Drew, and the two worked to transfer everything to a small house — also owned by Musset — that stands at the edge of her family's property. The house would become a place for Stubenrauch to sell her family's unwanted antiques and baubles.
Photo Gallery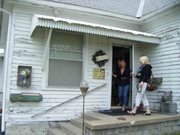 "Seldom Open" home sale
The Mussetts had been renting the white house to a lady who called it home for 30 years, and when Stubenrauch and Drew got their hands on it, the structure needed some work. They spent days cleaning, polishing and restoring the site of their "shop."
The ongoing garage sale of sorts, which the ladies have lovingly called "Seldom Open," is now open from 8 a.m. to 4 p.m. Saturdays and 10 a.m. to 4 p.m. Sundays for people to view and buy their farm collectibles.
"It's not really a garage sale, but it's not a full store or business yet," Stubenrauch said. "We're not sure what to call it. We're selling things for my dad, and having so much fun doing it. It's like a treasure hunt finding new things to put in here."
Upon parking and walking into the home, it's obvious why Stubenrauch struggles to find a term for her undertaking. The white exterior paint is chipping, exposing well-worn gray wood underneath. One notices the loose railing while climbing cracked cement stairs, expecting a flea-market style collection of rusty items beyond the screen door. The door's opening causes immediate wide-eyed, transformed perceptions. Light dances inside the entryway, and a delicious scent floats through the air. Its charming décor harkens a downtown boutique with fetching pieces placed carefully at every turn.
"We get that surprised reaction all the time when people come in," Drew said. "They can't believe this is how it looks inside."
Stubenrauch and Drew made use of many items they found to display their goods, hanging old windows from the ceiling for extra shelf space and fashioning a counter out of a barn door. They sell an array of decorative items – such as framed pictures, candles and vases – but also carry everything from vintage clothes and shoes to videotapes to actual Basehor glass milk bottles, all at yard-sale prices.
"Most of what we have is old, the stuff we found in my parents' place," Stubenrauch said. "But we also go to garage sales and thrift shops, and people give us things to sell. Michelle's the creative one because she puts it all together and makes everything look beautiful, and I'm the shopper."
The ladies dream of someday owning their own real store, possibly in the same spot with a complete renovation, but for now, they're content sharing a little family farm history with the community and gathering more antique knick knacks for Seldom Open.
"It's just a blast," Stubenrauch said. "I think old things are so neat, almost more than new things. Dad doesn't want any of this, and I can't possibly keep it all, so I'm just having a great time going through it and putting it out for sale."
"We're having the best time," Drew added. "We're kind of like those 'American Pickers' on the History Channel. This is one step into what we've always wanted to do. Maybe someday it will be something more. For now, we're just 'Seldom Open.'"
Items at Seldom Open, 2625 155th St. in Basehor, can be bought with cash or check each weekend. For more information, contact Marilee Stubenrauch at (913) 724-1606 or (913) 645-5401.