Earp Distribution christens new Edwardsville site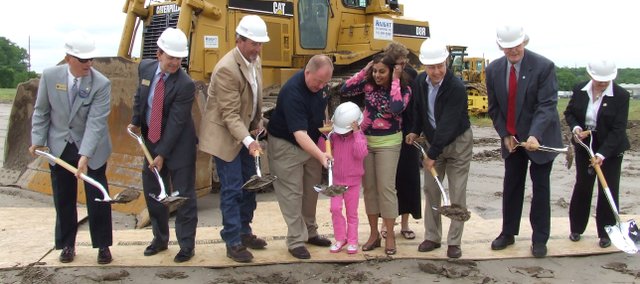 With a swift dig of the shovel, Earp Distribution officially broke ground Thursday, May 13 in the county it has called home since 1954.
That dedication to Wyandotte County was the true success story, as a large crowd gathered to not only break ground on the business' newest expansion, but to recognize growth in a time of turbulence.
When Earp Distribution, the sole wholesale provider of foods and goods to approximately 450 McDonald's and Chipotle Mexican Grills in the Midwest, began to discuss an expansion, owner Cliff Earp said officials with the county came to him and said, "We're not going to let you go."
After some hard work, Cliff Earp said Thursday's ceremony marked a milestone in a partnership between his business and Wyandotte County.
"It feels like a home to us," he said. "We truly needed a good partner, and you guys definitely have been there."
Earp will begin construction on its new facility, which is to be built at Woodend Road and 98th Street in Edwardsville. The facility will encompass a 160,000 square-foot warehouse with a total price tag of $23 to $26 million.
Steve Kelly, deputy secretary with the Kansas Department of Commerce, said he wanted to congratulate Earp for its investment in the state.
"Investments like these show the positive aspect of what can be done," Kelly said. "Things like this will get the state back on track."
Kelly said it was no secret Kansas experienced bad economic times recently, but the groundbreaking signified a path toward the future.
"This is a testament to (Earp) and the community," Kelly said. "We're starting to see bright signs … giving us hope for the future … this community should be very, very happy."