Motorcycle shop becomes dream come true for three owners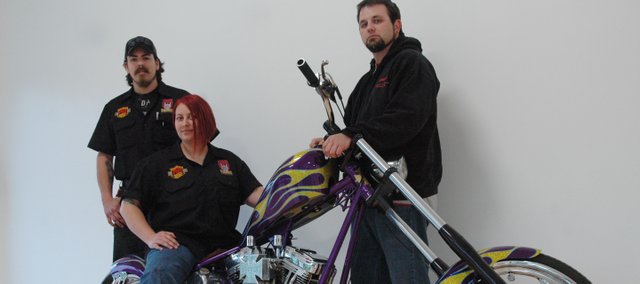 An economy-driven lay off paired with the question of where to turn next is certainly not a new story and won't be the last of its kind.
But for three Harley-Davidson-trained specialists, their story has taken a turn for the better. With the opening of Big Twins, a new motorcycle shop located in the Plaza West retail site in Edwardsville, three friends have turned a bad situation into a dream come true.
"The three of us used to work at Central Harley-Davidson," said Big Twins co-owner Danielle Valez, about her business partners Ben Bruce and Andy Moritz. "(Opening our own shop) has been on the back of everyone's head always. We've always wanted to open something up, but we were lacking the funds."
Then along came an offer they couldn't refuse.
Valez said when James Dearth and Matt Trapp, owners of the Wrap Factory, another business in Plaza West, came to the motorcycle trio asking if they wanted to join together on the new venture, there was no question in their minds.
The crew started work on the shop, which was the old location of the Wrap Factory that caught on fire August 2009, in April and opened for business May 1.
The shop specializes in Harley-Davidsons, which all three owners went to school for and have been certified to work on, but Moritz said no bike would be turned away.
"We can at least do oil changes and tires for everyone," Moritz said. "We'll get you in and done as quickly as possible so you can get back to riding."
Moritz said the shop has more to offer then the skilled labor. Moritz said Big Twins was "the cheapest in town."
As the shop begins to settle into a routine, all three owners said they were grateful to be doing what they loved.
"We help people do what they love to do," Valez said, "and that's ride."
Valez said her love of motorcycles started at a young age watching her mom and dad on their bikes.
"I've always liked bikes," she said. "I've always been around them since I was little."
That story goes for Moritz as well, who said he's been racing motorcycles since he was 3 years old.
So far, Moritz said, the shop has already had some good business come through the doors. With the steady flow of motorcycle traffic down Kansas Highway 32 and with several motorcycle bars, such as Kobi's in Bonner Springs, nearby, Moritz said the experience of owning a motorcycle shop has been enjoyable.
The shop, 10953 Kaw Drive, will be open from 9 a.m. to 6 p.m. every day of the week. On Saturdays and Sundays, the shop's crew will offer free grilling and beer to riders passing by who want to stop and see what Big Twins is all about.
"We hope to be another stop on your weekend ride," Moritz said.
For more information, call (913) 660-2596 or visit bigtwins.com.