One win away:
BLHS

soccer in regional finals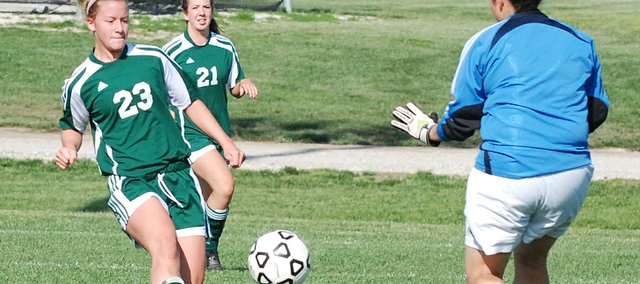 Basehor-Linwood has struggled to score goals for most of the 2010 girls soccer season, and it hasn't always been for a lack of opportunities.
Photo Gallery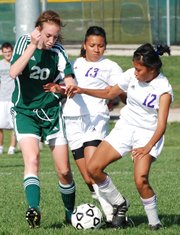 BLHS girls soccer 4, Harmon 0
Sometimes it's simply been a case of accuracy.
"That's all we do in practice is shoot, shoot, shoot," BLHS coach Jaclyn Naster said. "We should be amazing at it by now."
Lately, the Bobcats have been phenomenal.
With the end of the season in sight, the Bobcats have zeroed in on the target and scored 14 goals in their last three games — including two Class 5-1A regional playoff victories.
BLHS closed out the regular season with a 5-0 thumping of Bishop Ward on Friday.
"We've scored more in the last three games than we have all year," Naster said. "I think a lot of it is confidence."
Freshman Samantha Rutherford scored twice in that game, and freshman Kara Stephens, senior Moriah Manford and senior Lindsay Baxter each tallied one.
On Monday, the Bobcats were at it again. They entered regionals as the No. 11 seed and crushed No. 14 Wyandotte, 5-0. Stephens scored four goals in the victory and sophomore Ellen Farris tacked on another while senior goalkeeper Carol Smith recorded the shutout.
"I think we're passing better and playing more together as a team," Stephens said of what the Bobcats are doing better now. "We've come a long way since the beginning."
The victory propelled the Bobcats into the regional semifinals on Tuesday against No. 2 Harmon — a team that had just one loss on the season.
The game was supposed to be played at Harmon but was relocated to BLHS at the last minute due to poor field conditions. The on-target Bobcats continued their scoring proficiency and rolled to a 4-0 victory. Stephens struck first in the 31st minute after senior Elissa Manford stole a goal kick and fed a pass ahead to the speedy freshman for the finish.
Rutherford tallied three goals in the second half to put the game away.
Basehor-Linwood (7-8-2) now advances to play at 4:30 p.m. today in the regional finals against rival Lansing (10-5-1). LHS advanced with a 4-1 victory against Piper on Tuesday.
This marks the first time in Basehor-Linwood girls soccer history the Bobcats have played in a championship game of any sort.
"This is a huge step," Naster said. "The way the seedings fell we got in a good bracket, if you will. This is a golden opportunity, not to mention we got to play at home. I told them, 'The stars have aligned for you. You need to take advantage of it.'"