Bobcats blast Wildcats, lock up state berth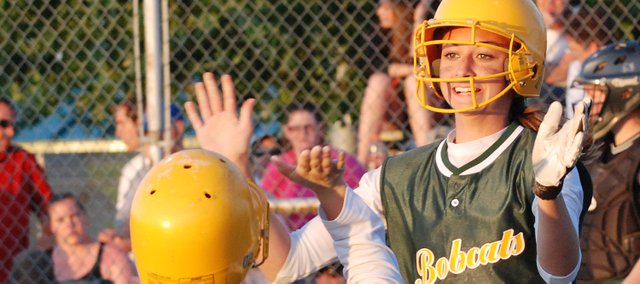 Basehor-Linwood's softball team captured the Class 4A regional championship in dominant fashion on Friday night.
As a result, the Basehor-Linwood softball team is returning to the Class 4A state tournament in Salina for the first time since 2005 and the fourth in coach Susan Mayberry's career.
The Bobcats had to overcome multiple days of rain delays and a venue change from Spring Hill High School to Field of Dreams in Basehor, and then they had to beat Bishop Ward and De Soto.
BLHS took down Ward in the semifinals before defeating De Soto in the title game, 6-1.
Basehor-Linwood scored first in the bottom of the first inning. Megan Rehm singled and scored on an RBI double by Hannah Tush. In the second inning, De Soto had runners on first and second with two outs. BLHS left fielder Olivia Cowan made a diving catch in shallow left field to end the inning and thwart the rally.
Basehor-Linwood answered with two more runs in the second inning. Tara Chumley reached base and scored. Later, Rehm scored again on a Courtney Leive RBI.
Following the inning, pitcher Brooke Redmond continued to shut down the Wildcat batters. She faced just 13 Wildcats over the next three innings. She struck out three during that stretch and also received strong defensive support.
Basehor-Linwood added three more runs in the fifth inning.
With runners on first and second, the Bobcats received a great sacrifice bunt from Rachel Neal that helped score two runs. She scored on a Chumley base hit.
De Soto trailed 6-0 in the seventh inning when Hannah Jokisch blasted a home run to score the team's only run of the game.
Redmond then retired the next batter to win the game.
A complete recap can be found in next week's Sentinel.