Five Questions: Premature births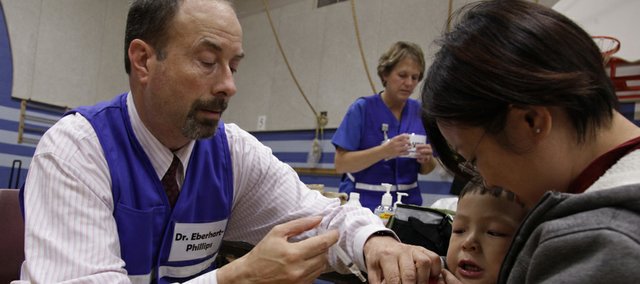 Q: How big of a problem are premature births in Kansas?
A: In Kansas, approximately 3,900 babies are born premature each year, two-thirds of whom are born late preterm, between 34 and 36 weeks. Of the 300 babies in the state who die each year before their first birthday, more than 60 percent are premature.
Q: What complications are most prevalent in premature babies?
A: Because their lungs are not fully developed, premature newborns often have serious breathing problems. They also have a higher risk of jaundice, troubles with temperature stability and feeding difficulties.
Q: Don't troubles end once premature babies grow older?
A: Sadly, the troubles these children face don't end when they grow out of infancy.
By the time they reach school age, late preterm children are 36 percent more likely to have developmental delays or disabilities, according to one large study.
Q: What kind of medical costs are we talking about?
A: The immediate medical care of premature infants is costing parents, taxpayers and everyone else who buys health insurance about $26 billion per year, or $50,000 per kid. That's more than 10 times the cost of bringing a full-term baby into the world.
Q: What is the state doing to help mothers bring their pregnancies to full term before giving birth?
A: Passage of a new statute in the Kansas Legislature this year enables researchers to conduct intensive interviews of a random sample of new mothers across the state. This will help public health agencies at the state and local levels target the factors that contribute most to the preterm birth problem in Kansas.
The other exciting new development is a free service for pregnant women and mothers of infants under 1 year of age called Text4Baby. Women who simply text the word "BABY" to 511411 (or "BEBE" in Spanish) will receive three text messages per week with helpful, medically sound information timed to their delivery dates or the birth dates of their children.