Basehor Chamber of Commerce hears updates on Wizards stadium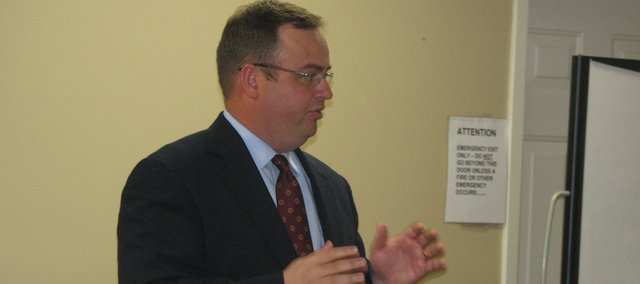 By Father's Day weekend 2011, Kansas City is expected to have a premier soccer stadium and event plaza at Village West.
Todd Adams, vice president of sales for the Kansas City Wizards, came to the Basehor Chamber of Commerce meeting Thursday to provide details on the progress and future of the new Wizards stadium currently under construction.
The 18,500-seat, $200 million stadium is being built right across from Nebraska Furniture Mart and will feature plenty of aspects to keep its visitors entertained and coming back consistently, Adams said.
"We are ecstatic to be here," Adams said of the Kansas City, Kan., location.
Not only will the stadium be home to the Wizards, but it will also be used as an outdoor concert venue that will have the capacity to hold 20,000 people, which Adams says is the first of its size for the area.
"We have the Sprint Center here, which is wonderful, but that's just inside," he said. "There really isn't anywhere to have an outdoor concert of that size in this area. This will be the nicest outdoor facility in the Midwest, if not the country, I think, when it's completed."
The spiral ceiling covers all the seating in the facility, Adams said, so concert and game goers can enjoy the day rain or shine. Sound was a consideration during the stadium's design, and Adams said visitors could look forward to a unique experience in that department.
"The sound will just be booming," he said. "It will be a one-of-a-kind audio experience."
Suites in the stadium will have an original effect, as well, Adams said, with food and beverages served in a common area and one wall of each suite opening in a garage-door fashion, all to encourage mingling.
"It will be more of a communal area," Adams said. "Suites are commonly used for business networking and socializing, and we want to build on that. Kansas City is all about shaking hands and kissing babies."
New marketing will accompany the stadium with an emphasis on personalizing each season to the fans. A rewards system established with a free membership will be in place based on attendance to games and other Wizards activities that Adams says will distribute perks people will actually use.
Questionnaires will also help the Wizards send rewards and information to its members.
"We're going to know enough about you that we are going to get the information to you that's pertinent to you and reward you for what you do with points," he said. "We're focusing on consumer-friendly, not cramming it down your throat."
Adams said the average Wizards ticket cost was $22, and the new membership and marketing plans should be launched during the team's game against Manchester United July 25 at Arrowhead.
For more information, go to kcwizards.com.