Dairy Days expands activities, celebrates five years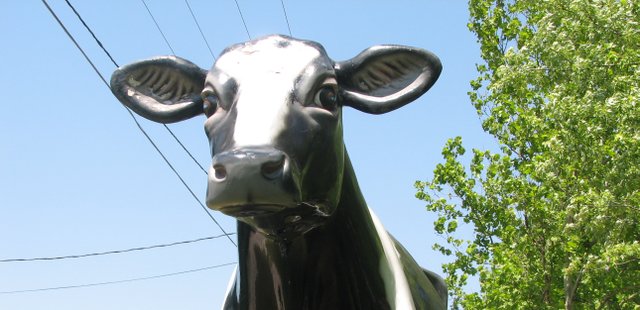 For five years, Basehor's Dairy Days has paid homage to its dairy town roots, and this year, officials say the festival is set to be the best celebration yet.
The 2010 Dairy Days festival, which is the fifth festival in the life of Dairy Days, will take place June 5 at Basehor City Park, 15940 Leavenworth Road.
Saturday's event will begin at 7 a.m., as in past years, with the famous Chris Cakes pancake breakfast, but in honor of the fifth anniversary, the festivities will actually kick off with a picnic and concert in the park at 6:30 p.m. Friday, June 4. The band Bolt Upright will perform that evening as visitors get in the Dairy Days spirit with hot dogs, brats, and root beer floats.
"We're really proud of the five years," event coordinator Lila White said. "The concert will be a great way to start everything and celebrate this being the fifth annual. People can bring their own lunch, or we'll have food there, too."
White said this year's event would keep visitors entertained all day with features like a walk in the park to raise money for the Basehor Park Association, live western shows, 60 vendors showcasing items for sale and plenty of activities for kids.
"We're really excited about Gunsmoke and Petticoats (western show)," she said. "We try to step it up ever year, making it bigger and better."
Last year's city park location produced dozens of positive reviews, so White said she had no doubt that would be another point of enjoyment.
"Everyone was so excited it was in the park (last year)," White said. "That setting really pulled people in. They're excited about it again, and we're excited."
Plenty of room will be available for parking at the festival, White said, and traffic should run smoother than ever, as the Basehor public works department widened the park's entrance from one lane to two.
"Public works has done a great job, working really hard to make this happen for us," she said. "Cars will be able to go in and out at the same time this year, which should really help the flow."
Dairy Days committee member Kaci Brutto said festival-goers should be sure to catch Four Fried Chickens and a Coke, one of the bands that will perform at 1:30 p.m. the day of the festival.
"We had (the band) at Dairy Days our first or second year, and people really enjoy them," Brutto said. "They play a variety of music, so there's something for everyone."
One of the best aspects of Dairy Days each year is the outlet it provides for singers, performers, restaurants and vendors in the area, Brutto said. The day is a Basehor tradition that Brutto says she looks forward to every summer, one that started with a group of determined women and turned into a beloved annual event.

"It's a great opportunity to showcase our local talent, as well as bring in some regional talent," she said. "It amazes me every year how seven women put together this family-friendly festival. I sit there each year just amazed it all comes together. Everyone works so hard, and it's a wonderful event for the community."
Dairy Days schedule of events:
7 a.m. to 7:45 a.m. — Walk in the Park sponsored by Snap Fitness
7 a.m. to 9:30 a.m. — Chris Cakes pancake breakfast and The Roasterie coffee
9 a.m. to 9:30 a.m. — Kaw Valley Community Chorus
9:30 a.m. — Gunsmoke and Petticoats Old West Show
10 a.m. — Sarah's Studio of Dance
10:30 a.m. to 1:30 p.m. — Shriners Clowns
11 a.m. — Gunsmoke and Petticoats Old West Show
11:30 a.m. to 1 p.m. — Stranger Creek Band
12:30 p.m. — White Tiger Performance Group
1 p.m. to 2 p.m. — Sizzle the Bull, Kansas City T-Bones mascot
1 p.m. — Gunsmoke and Petticoats Old West Show
1:30 p.m. to 3:30 p.m. — Four Fried Chickens and a Coke