District eager for new wellness center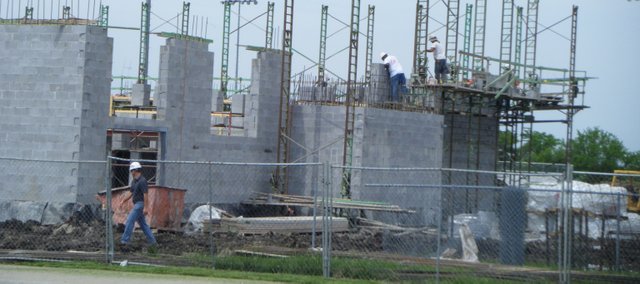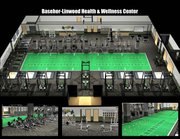 Basehor-Linwood High School is getting students excited about health and wellness, and soon the school will have an entire building dedicated to the task.
The Basehor-Linwood Health and Wellness Center is set to open in August and will aid the school in teaching students the value of staying active and eating well.
When enrollment numbers in Ross Schwisow's strength and conditioning classes at the high school began to soar, he approached Basehor-Linwood Superintendent David Howard about the possibility of building a fitness facility.
"We had 270 kids taking the class this semester," Schwisow said, "and we're looking at having about 300 in the fall. That's more than half the school."
Howard was receptive to the idea and took it a step further when he applied for funding from the Federal Emergency Management Agency to make the fitness center a storm safety shelter, as well. Howard worked on the project for more than a year and created a hazard mitigation plan for the school district.
The U.S. Department of Homeland Security granted the school district $849,038 for construction of a tornado safe room with a capacity of about 1,000 people in the facility, on which Straub Construction has already begun working. The grant will cover 75 percent of the projected costs to build the center, and it will be built in accordance with FEMA guidelines.
"This will be a great asset to the district," Howard said. "It provides a safe place for the high school students and staff to go during severe weather. It will also be a safe place during events at the high school and provide better restroom facilities during outside events. And it's a valuable fitness facility for the high school and the district."
Two classrooms at the high school previously used for strength and conditioning will be open for other use when the center is complete, and Schwisow plans to offer 10 units of the course with four levels of difficulty to students during the 2010-2011 school year. The center will also be used for before- and after-school practice and training and will be open to all district staff members wanting to use the exercise equipment.
"We're really looking to evolve the curriculum of our physical education department and turn this into something more than strength and conditioning," Schwisow said. "It's really becoming more health and wellness. This is more than a weights class. We're teaching students important habits at an early age, and they'll be able to take that into their 20s and 30s and use this knowledge about health and fitness for a lifetime."
The center will not be open to the community as a gym or storm shelter, Howard said, because the district did not want to compete with recently opened Snap Fitness, and FEMA would not approve the grant if it were a public shelter. Howard said FEMA representatives conceded relocating to a public shelter during a severe storm was more dangerous for community members than staying in the same spot.
While the grant covers much of the construction, the high school is responsible for the full cost of equipping the health and wellness center. Schwisow said buying the necessary equipment would cost about $100,000, and the district started a fundraiser to make it happen. Donations to the cause are tax deductible, and the names of donors will be engraved on the center's "Wall of Distinction" to be revealed during the August opening. Individual and corporate donations are welcome, Schwisow said, and anonymous donations will be accepted.
"Even if someone doesn't have kids in the district, this center will teach important lessons," Schwisow said. "A lot of the students taking strength and conditioning aren't involved in school athletics, and this building gives them a place to work out and a way for us to reach a broad group of students. We're trying to get the word out to the community, to parents of kids all ages because this will be a future resource for our elementary and middle school students. We're doing something special here, something I'm really excited about."
For more information, or to make a donation, contact Ross Schwisow at rschwisow@usd458.org, or Kaci Brutto at (913) 724-1396 extension 130.
Donation Wall of Distinction
• Bronze: $100 individual, $500 corporate
• Silver: $250 individual, $1,000 corporate
• Gold: $500 individual, $2,000 corporate
• Platinum: $1,000 individual, $5,000 corporate