Former
BSHS

student takes on Royals airtime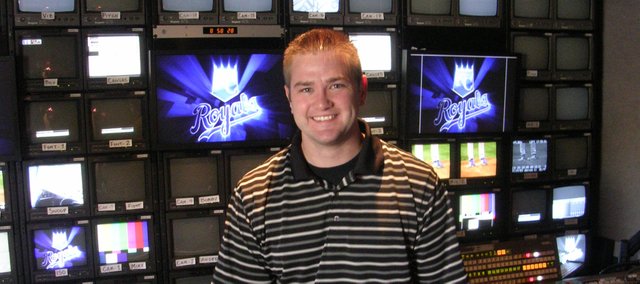 For TJ McGinnis, the day-to-day workweek is not the typical 8 a.m. to 5 p.m. Monday through Friday experience.
Instead, the 2003 Bonner Springs High School graduate heads out every morning to a different kind of office. As producer of the pre- and post-game show Royals Live with Fox Sports Kansas City, McGinnis spends his day, from 11 a.m. to 11 p.m., at the ballpark.
"It's a great job," McGinnis said. "I get to cover baseball for my job."
McGinnis is contracted by Fox News six months out of the year to cover the Royals season and follow the team across the country from game to game. The other part of the year is spent doing freelance work during the basketball and football seasons.
To say McGinnis has found his dream job is an understatement, and looking back, he attributes all his success to the time spent at BSHS.
"I've been very blessed to know what I want to do since my senior year in high school," McGinnis said.
While taking a television production class by former BSHS teacher Doug Kapellar, McGinnis said one project in particular made his future path much clearer.
At the time, in 2003, Nike had been making several commercials showing off the dribbling skills of NBA players. McGinnis said he decided to make a Nike-like commercial to promote the sale of the school's yearbook.
So one night, McGinnis and a small crew set up a spotlight on the BSHS gym floor and shot their own version of the commercial.
"I was up all night editing," McGinnis recalled. "I finished at like 3 a.m. and I watched it 20 times in a row. I just knew that this was what I wanted to go into. It felt really good completing something like that. I enjoyed the whole process. Shooting the commercials, thinking about the angles I needed, the lights, what the characters would do on camera and editing it to make it perfect. Since then I knew what I wanted to do."
McGinnis still attributes getting his current job to the lessons he learned in that BSHS class and to Kapellar.
"He had a big influence on my life," McGinnis said. "He really challenged me to pursue things I wanted to do, to take the extra step and to do something special."
After graduating from BSHS in 2003, McGinnis attended Northwest Missouri State, where he graduated in 2007 with a degree in broadcasting.
In his second year with the Royals Live show, McGinnis and host Joel Goldberg are responsible for creating about 140 shows each year. With a 30-minute pre-game show and a 30-minute post-game show, McGinnis said a big part of the job is finding different storylines to fill the time.
"When doing that many games you have to come up with a lot of different storylines," he said. "It can be difficult day after day, but the important thing is to build relationships with players, with Royals' staff, because we use them all the time to help with stories and back up the things we're saying."
McGinnis said he usually shows up at whichever ballpark the Royals are playing at around 11 a.m. From there he decides on that day's storyline and sets to work getting the interviews and video needed for each show.
Work continues until about 11 p.m. each night, when the final show is wrapped up.
Despite the long hours, which McGinnis said he's used to by now, he wouldn't have it any other way.
"It's an unbelievable experience," McGinnis said. "I can't think of many other people who get to cover sports for their job and get to go see so many different places. I'm not in a cubicle all day. But it's long hours so whenever everyone else is playing out at the lake, or taking canoe trips, I'm at a ballpark somewhere."