Fort Leavenworth pays final respects to fallen soldier
Services take place for Army Col. John M. McHugh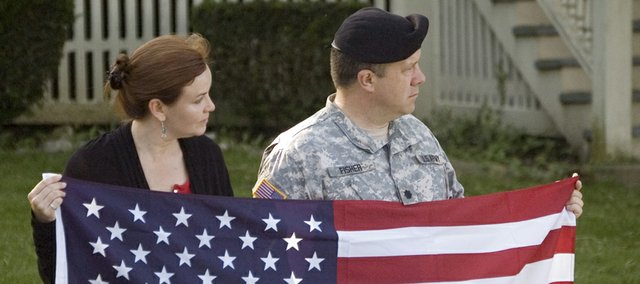 Fort Leavenworth — Bagpipe chords of "Amazing Grace" played in the early afternoon Thursday at Fort Leavenworth National Cemetery as a faint wind rustled two rows of American flags.
The flags lined the road leading to the Committal Shelter where graveside services took place for Army Col. John M. McHugh, who was killed May 18 in Afghanistan. McHugh, 46, was one of five soldiers killed when opposition forces using a vehicle carrying an improvised explosive device near Kabul attacked their convoy.
McHugh, a married father of five who also had a grandchild, was serving as chief of operations for the Fort Leavenworth-based Battle Command Training Program.
During Thursday's service, Fort Leavenworth military personnel fired a 21-gun salute. Jim Timmons, ceremonial honor bugler for American Legion Post 23 in Leavenworth, played "Taps."
Thursday morning, military personnel and civilians lined Grant and Pope avenues at the fort for the funeral procession. Nearly 150 Patriot Guard motorcyclists participated in the procession as people lining the route, many holding American flags of varying sizes, looked on. The procession went north on Grant and west on Pope to the Main Post Chapel where private services took place.
Dale Ormond, deputy to the commanding general at the fort's U.S. Army Combined Arms Center, stood at Grant and Pope streets with his family for the processional. He called McHugh's death a tragic event and was pleased with the response of many who attended the processional. He noted it was the military's "responsibility and duty to pay respects."
"I think this shows the tremendous love the Army has for its soldiers," Ormond said.
Thomas Smith, Topeka, is a member of American Legion Post 400 of Topeka and a member of the Patriot Guard, has been riding with the Patriot Guard for about two years. He noted there usually were 40 to 50 riders at each funeral he has attended. He said there might have been more than 150 riders at McHugh's funeral, but group members also were attending a funeral Thursday in Junction City.
"I thought it was pretty awesome," Smith said. "I was duly impressed."
McHugh graduated in 1986 from the U.S. Military Academy and served at Fort Carson, Colo., Fort Rucker, Ala., and Hohenfels, Germany, as well as Fort Leavenworth. He also was a 2009 graduate of the U.S. Army War College.
On Tuesday, his son Army Chief Warrant Officer Michael McHugh threw out the ceremonial first pitch before the Kansas City Royals' game at Kauffman Stadium. McHugh's hometown was West Caldwell, N.J.