Resident moves his business to Bonner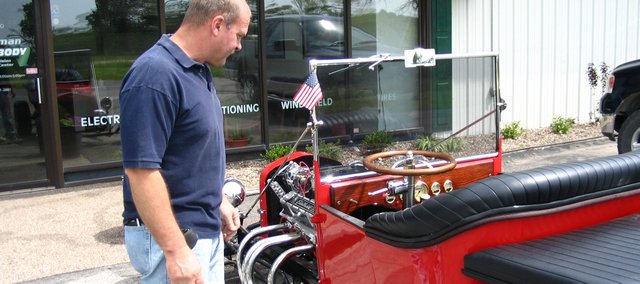 Dan Tallman has been wanting to move his Kansas City, Kan.,-based business to his home city for quite some time.
After all, Tallman is a lifelong resident of Bonner Springs.
"We've been planning on getting out here for about six years. When this building came up for sale, we decided to jump on it and get on out here," said Tallman of Tallman Auto and Body, which moved to its new location at 13910 State Ave., in Bonner Springs at the end of January.
Tallman said his auto and body shop had been in the family for more than 50 years. His father, Don Tallman, started the business in 1953 in Kansas City, Kan. Dan Tallman took over the business in 2003.
As a volunteer fire chief with Sherman Township in Leavenworth County, Dan Tallman said he has a stronger foothold in this area, which will increase the amount of business Tallman Auto and Body brings in.

"We know so many people out here, we just felt like business was going to be better for us being out here," Tallman said.
As it turns out, he was right. Tallman said since his January opening, he had already seen about a 40 percent increase in business.
And last weekend, Tallman Auto and Body played host to a grand opening and car show, where many cars were proudly displayed in the front parking lot. Tallman said the event drew close to 200 area residents.

Tallman Auto and Body specializes in virtually any car need, from engine tune-ups to collision repair.
"We can pretty much do everything," Tallman said, noting that his prices were also "very competitive," at half as much as what would be charged by a dealership.
Plans for the future, Tallman said, include sponsoring at least one car show a year and also continuing to do business as usual — only a little bit closer to home.
"To continue to grow the business in this location and increase the customer base in this area," Tallman said his plans for the future. "I like to serve the hometown people … I like to be close to home."
Tallman Auto and Body is open from 8 a.m. to 5 p.m. Monday through Friday. Appointments aren't always necessary but may be required for some types of repairs, Tallman said. Call Tallman Auto and Body at (913) 371-2881.