Bullfighter doesn't clown around when aiding cowboys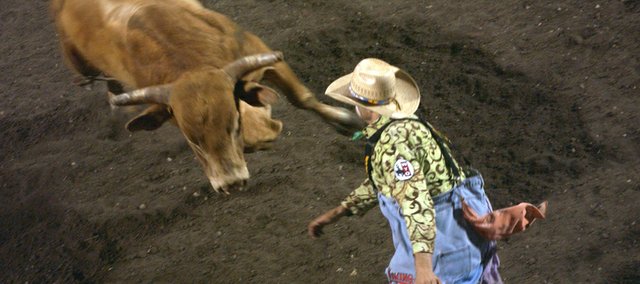 At first glance, Dusty Tuckness looked like the many clowns hanging around Friday night at the Leavenworth County Fairgrounds.
He, like a group of Shrine clowns at the Abdallah Shrine Rodeo, was wearing face paint and ragged, colorful clothing. But a closer look revealed a purpose other than humor to Tuckness' outfit.
He wore body-hugging undergarments beneath the clown get-up and a new pair of sleek Bones athletic shoes.
When your job is to step between the biggest of barnyard animals and a fallen cowboy, you don't wear floppy clown shoes.
And make no mistake, every cowboy who climbs on a rodeo bull gets bucked off whether or not he makes it the eight seconds needed for an official ride. When he does, it's the job of the 24-year-old Tuckness and other bullfighters to be the target of the animal's anger until the rider makes it to safety.
It's a job Tuckness said he has loved since he took it up at 11 years of age.
"It's kind of hard to explain, but it's great to go out there and be able to control an animal and just keep on top of it," he said. "There's some adrenaline, but it's about being a cowboy lifesaver and making sure everybody gets out of there safely."
He followed the career path of his father, who was a professional bullfighter, Tuckness said. Growing up in Meeteetse, Wyo., he had early opportunities to hone his skills while working his way up from rodeo's minor leagues.
"You got to work the smaller stuff — get out there and work your name and be seen," he said.
There's no scoring system for bullfighters, Tuckness said. Reputations are based on the opinions of those who recognize good work.
Tuckness, fellow bullfighter Dan Robinson and clown John Harrison are working for the Abdallah Shrine Rodeo for the event's contract stock provider.
Having paid his dues, Tuckness now works the Professional Rodeo Cowboys Association circuit, doing 60 to 65 events or 130 to 140 performances a year. Last year, he was one of the bullfighters chosen to work the Wrangler National Finals in Las Vegas.
Injuries are part of the game. And Tuckness' list includes two dislocated shoulders, a dislocated kneecap and numerous broken bones.
"If it's above the waist, it doesn't stop you," he said. "When I had the dislocated shoulder, I just went on with it. If you're not working, you're not getting paid.
"When it's your wheels, you can't work."
Bullfighters are aware of bulls with reputations for being mean or hooking riders and bullfighters with horns, Tuckness said. Because of their unpredictable nature, he "prepares for the worst, but hopes for the best" with every bull.
"I'm very calm when I'm in there," he said. "I get really focused when the bull comes out of the chute. You have to be able to keep yourself relaxed.
"I've been in bad positions and been able to get myself out of it."
His goal is to stay in the profession as long as he can. To that end, he works out regularly, watches his diet and doesn't drink.
"I"m still pretty young," he said. "I've got 20 more years in me, the Good Lord willing."
The three-day Abdallah Shrine Rodeo will conclude tonight with events starting at 7:30 p.m. at the Leavenworth County Fairgrounds just north of the intersection of Kansas Highway 16 and U.S. Highways 24-40 in Tonganoxie.