ELECTION
CENTRAL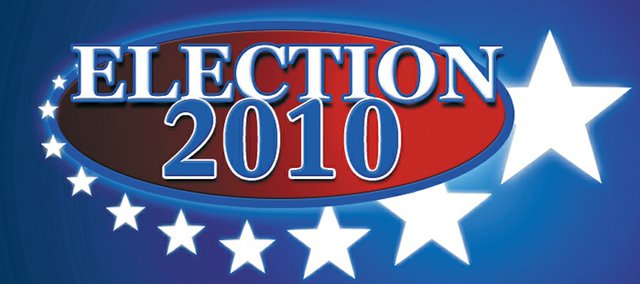 Here are the unofficial election results reported from the Leavenworth County Clerk's Office and, when applicable, statewide numbers:
In the 39th District State Representative race, Republican incumbent Owen Donohoe leads Democrat Joe Novak, 324 votes to 221.
For 40th District State Representative, Democratic incumbent Melanie Meier leads Republican Sandra Bohne 1302-1249.
In the 42nd District State Representative race, Republican incumbent Connie O'Brien nearly doubled the vote total of Democrat Jim Pittman 5,423-2,872.
In the Leavenworth County Commission District 1 race, Republican Robert Holland defeated Democrat Tim Goetz, 2,924-1,671 with all 20 precincts reporting.
On the ballot question asking whether district judges should be elected rather than appointed, "No" is won among Leavenworth County voters, by a count of 9,830-8,289 with 45 of 45 precincts reporting.
On the other Leavenworth County ballot question, which asks whether to remove a percentage requirement for restaurants to serve liquor by the drink, more have voted "Yes," by a count of 10,484-7,855 with 45 of 45 precincts reporting.
The Associated Press has called the races for Kansas governor and U.S. Senator, with Republicans Sam Brownback and Jerry Moran winning by wide margins.
Brownback faced Democrat Tom Holland, Libertarian Andrew Gray and Reform Party candidate Kenneth Cannon in the governor's race. In the U.S. Senate race, Moran faced Democrat Lisa Johnston, Libertarian Mike Dann and Reform Party candidate Joe Bellis.
In the Kansas Secretary of State race, Republican Kris Kobach leads Democratic incumbent Chris Biggs, 459,645-291,439, with 3,066 of 3,315 precincts reporting.
In the U.S. House 2nd District race, Republican incumbent Lynn Jenkins had 126,173 votes to Democrat Cheryl Hudspeth's 64,689.
For the First District seat on the State Board of Education, Republican Willie Dove was leading Democratic incumbent Janet Waugh early, but in the end, Waugh had 54 percent of the vote with a 34,864-29,741 advantage.
The results will remain unofficial until after Leavenworth County commissioners convene at 9 a.m. Friday at the Leavenworth County Courthouse in Leavenworth to canvass the ballots and declare the results official.