Polls are open for Election Day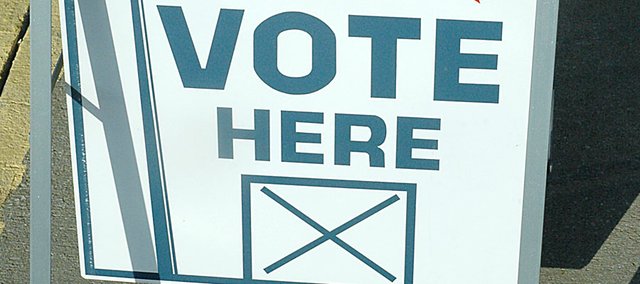 It's Election Day in Kansas, with voters deciding contests several federal, state and local contests.
Polling places will remain open until 7 p.m.
Highlighting the ballot are the Kansas governor's race, which pits heavily favored Republican Sam Brownback against Baldwin City Democrat Tom Holland, Libertarian Andrew Gray and Ken Cannon of the Reform Party.
Kansas voters also will be selecting a new U.S. senator to replace Brownback, who is stepping down after 12 years in the post. The race features Republican Jerry Moran and Democrat Lisa Johnston.
Congressional representatives also are on the ballot. Johnson, Wyandotte and some Douglas County voters will select a successor to U.S. Rep. Dennis Moore, who is retiring from his post. Moore's wife, Stephene, is the Democratic nominee for the seat and is facing strong opposition from Overland Park Republican Kevin Yoder. Leavenworth and some Douglas County voters will help decide whether freshman Republican U.S. Rep. Lynn Jenkins should win re-election or whether to send Democrat Cheryl Hudspeth to Washington.
Voters also will select a slate of other state officials, including state treasurer, attorney general, insurance commissioner and secretary of state.
The entire 125-member Kansas House of Representatives is up for election today.
Several state Supreme Court, Court of Appeals and District Court judges also are up for retention on today's ballot, as are two proposed state constitutional amendments.
In Leavenworth County, voters will decide two ballot measures, one related to how District Court judges are selected and the other dealing with liquor sales.
Once polls close, check back to this site as results are updated throughout the night and into the early morning Wednesday.