Basehor voters flock to polls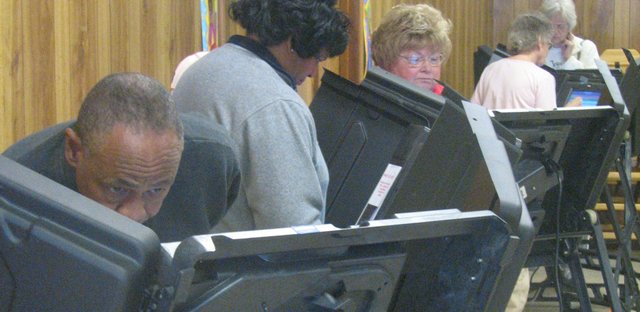 If Ron Griffith had his way, people would be required to vote — or, at least, if they didn't vote, they wouldn't complain about what happened afterward.
"Even if it doesn't count, at least I voted and let my feelings be known," said Griffith, a Leavenworth County resident who voted at the Fairmount Township Fire Department Station No. 1 on Tuesday afternoon.
Voters in and around Basehor let their feelings be known Tuesday, at a greater rate than the Leavenworth County population as a whole. All three polling places in and near Basehor registered participation rates higher than the county average, according to unofficial totals from the Leavenworth County Clerk's Office.
County Clerk Janet Klasinski said unofficial results showed a 42.3 percent voter turnout across Leavenworth County — a dip from 2006, the last gubernatorial election year, when turnout was about 46 percent.
"I thought it was a good turnout," Klasinski said. "I thought it was about what I anticipated."
Klasinski said the percentage could rise a bit after provisional ballots are inspected.
For the precinct including the city of Basehor, which voted at Holy Angels Catholic Church, 1,383 voters submitted ballots, making for 45.4 percent turnout.
Election workers at the church said voters had already lined up outside by the time polls opened at 7 a.m., and even during the mid-afternoon slow period, the polling station constantly had a line of about 10 to 15 people.
The Glenwood/Fairmount precinct, which voted at Glenwood Ridge Elementary School, recorded a 48.8 percent turnout with 918 voters.
Klasinski said those numbers were about normal for a gubernatorial election, but the higher-than-usual turnout at the Fairmount Township fire station was a bit of a surprise. At the fire station, where people from the Fairmount/Basehor Township precinct voted, 612 people cast ballots, making for 46.6 percent turnout.
At the fire station, election workers said they'd been kept busy and that voters had been waiting in line much of the day.
Will Painter, who lives in unincorporated Leavenworth County, voted at the fire station over his lunch hour. He said he made sure to vote in every general election.
"That's the only way an individual can be heard," Painter said. "It makes you feel like you did your part."
In Leavenworth County, people who made their voices heard rejected one ballot question while approving another, while largely leaning toward Republicans at all levels of government.
State district judges in Leavenworth and Atchison counties will continue to be appointed, after voters in the two counties defeated a ballot measure that called for judges to be elected instead. Across the two counties, 12,687 people voted "no," and 9,911 voted "yes." In Leavenworth County, 9,830 voted "no" and 8,289 "yes."
The other Leavenworth County ballot question, which asked to eliminate a required percentage of food sales at establishments where liquor is served by the drink, passed with a vote of 10,484 "yes" votes against 7,855 "no" votes.
Republicans won the bulk of votes in Leavenworth County in races for local, state and national offices, as was the case across Kansas.
One exception, though, was the 40th District State Representative race, where Democratic incumbent Melanie Meier held a lead of just 13 votes against Republican Sandra Bohne among Leavenworth County voters in the unofficial results, 1,825-1,812. Meier had a lead of 41 votes across the whole district, which includes parts of Lansing and Leavenworth and stretches into Atchison County.
Another exception was in the State Board of Education, District 1 race. Incumbent Janet Waugh, a Kansas City, Kan., Democrat, had about 5,000 fewer votes than Republican challenger Willie Dove of Bonner Springs. But Waugh carried the rest of the district and won the race with 54 percent of the vote.
Republicans comfortably won the other two State Representative races in or near Basehor.
Incumbent Republican Owen Donohoe defeated Democrat Joe Novak for the 39th District seat by a count of 6,420-3,950, helped by an edge of 1,852-1,016 in Leavenworth County. The 39th District covers Basehor, Bonner Springs and parts of Shawnee.
In the 42nd District, all of which is in Leavenworth County, Republican Connie O'Brien won reelection handily, defeating Democrat Jim Pittman 5,423 votes to 2,872.
Leavenworth County strongly favored Republicans in races for national and statewide offices, as well. Republicans Jerry Moran and Lynn Jenkins each won more than twice as many Leavenworth County votes as their Democratic challengers in their races for U.S. Senator and U.S. Representative, respectively. Among voters from all counties, Moran defeated Democrat Lisa Johnston with 70 percent of the vote, and Jenkins won against Democrat Cheryl Hudspeth with 63 percent of the vote.
In the governor's race, Leavenworth County voters gave Republican Sam Brownback 11,407 votes to Democrat Tom Holland's 6,299. Statewide, Brownback won with 63 percent of the vote.
In the other three races for statewide offices, Leavenworth County voters also sided with the victorious Republicans over their incumbent Democrat opponents. Derek Schmidt defeated Steve Six in the Attorney General race, Kris Kobach won the Secretary of State race against Chris Biggs and Ron Estes defeated Dennis McKinney for the State Treasurer office.
And for Leavenworth County Commission District 1, which is in the northern part of the county, Republican Bob Holland defeated Democrat Tim Goetz, 2,294-1,671. Holland replaces JC Tellefson, who opted to not run for re-election.
The results from all races are unofficial until they are certified. Results from Leavenworth County will remain unofficial until Friday, when county commissioners will convene at 9 a.m. in the Leavenworth County Courthouse in Leavenworth to canvass the ballots.