Bobcats' Oliva closes out breakout year with strong showing at 4A state meet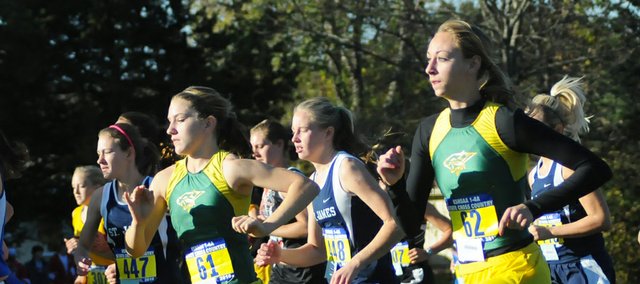 Wamego — Basehor-Linwood High School runner Jonathan Oliva carried the proverbial torch for the boys cross country team on Saturday at the Class 4A state championships.
Photo Gallery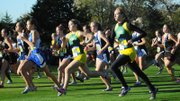 BLHS, BSHS runners compete at 4A state cross country
First, by running at state, he ended a long drought for the BLHS boys program. Oliva was the first boys runner to compete at state in 28 years.
Second, Oliva provided the Bobcat boys with a positive ending to a memorable season by finishing in 57th place at the state meet at Wamego Country Club.
"The most exciting part of the day was how well Jonathan Oliva did," coach Jeff Venema said.
He was talking specifically about how well Oliva performed in relation to runners from rival Tonganoxie.
Oliva ran a time of 18 minutes, 37.85 seconds, and defeated Caleb Himpel of Tonganoxie by one second.
He passed a Tonganoxie runner a quarter of the way through and went ahead for good.
A week ago, three Tonganoxie runners had defeated Oliva at regionals.
At state, Oliva defeated every Tonganoxie runner.
Tonganoxie and Basehor-Linwood have been rivals for a long time. The rivalry rose to a new level in cross country when the Chieftains edged out Basehor-Linwood for third place as a team and regionals and claimed the final full-team berth at state. That meant that only Oliva would head to state instead of all seven BLHS boys runners.
In a way, Oliva's run was a bit of redemption for the team.
"He came out ahead of Tonganoxie runners, and we're very pleased that he was able to dominate our rival," Venema said. "It was great to see. It was a fine way to close out the season. He left us with a smile on our face."
In girls competition, freshman Ally Laney showed tremendous promise in her first state meet. She finished in 39th with a time of 17:09.51.
"She did a great job to come out 39th overall," Venema said. "She worked hard and focused on this throughout the season."
The performance could be a sign of positive things to come in the future for her, Venema said.
Hannah Tush finished in 71st place with a time of 18:20.43.
The meet takes place on a golf course and given the course's layout, Venema said Tush got behind some opposing runners and had difficulty making up ground.
All of the runners proved they can run with the elite runners in the state, Venema said, and he said he is proud of how they performed.
"They did well, they competed against the best of the best and they ran well," Venema said.