Braves' Coffman, Kimbrough gain experience at state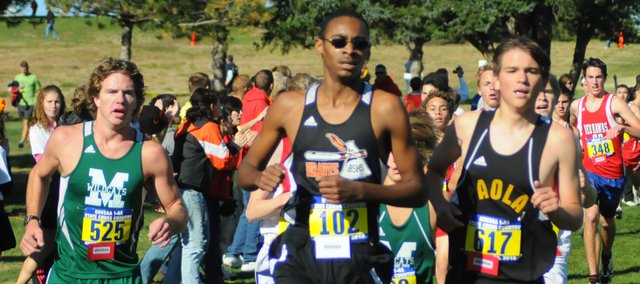 The youth-laden Bonner Springs boys cross country team made major strides during the 2010 season, and the icing on the cake came in the form of team captains Matt Coffman and T.J. Kimbrough qualifying for state.
Photo Gallery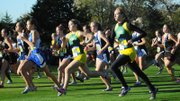 BLHS, BSHS runners compete at 4A state cross country
Neither medaled at the Class 4A state championships Saturday at Wamego Country Club, but Coffman, a junior, and Kimbrough, a sophomore, both will be back in 2011 to try to guide a full BSHS squad to state.
"Now they've been there," Braves coach Bill Downing said. "We could be in 4A for a few years, so it's good experience to get out there and race that course.
"One's a junior and one's a sophomore, so they'll be coming back stronger and faster next year."
Mulvane senior Evan Landes was the state champion in 16 minutes, 8.47 seconds.
Coffman placed 65th in 18:48.16 and Kimbrough was 86th in the 103-runner field in 19:29.51.
Downing said both Coffman and Kimbrough finished roughly how he expected they would based on qualifying times.
"They knew going in, we broke it down, we had all the times from the regionals, and it's hard to compare times from course to course but (we had an idea how they would place)," Downing said. "The state course has a lot of tight turns on it, and you're running with guys really close to your level, so if you get boxed in, it takes a while to get out and run free. Because of that, we had to throw times out the window. They were a little behind place-wise (where we thought they'd be), but not by much."
Coffman entered with state experience, having competed on the 2008 state team that competed at the Class 5A championships at Rim Rock Farm. Saturday was his first time racing at Wamego, however. The same was the case for Kimbrough.
Downing said he'd hoped to take his runners to Wamego prior to the race to preview the course — something he did at Rim Rock when the Braves were 5A — but that wasn't an option at the 4A meet because Wamego Country Club doesn't make the course available to runners until race day. As a result, any studying of the course was done on race day.
Coffman and Kimbrough had to learn much about the course while racing. What they found out was that the narrow turns made it tough to stay together and pull each other along as they'd done during the regular season.
The pair got separated and latched on with other runners who they paced for most of the race.
"Usually, T.J.'s within striking distance of Matt, and he just kind of got gapped in there," Downing said. "The way it kind of played out was that you just kind of ran with little packs that you're close with."
In the end, Downing said both runners came away pleased with the season but not satisfied with their performances at state. That's OK, though, Downing said.
"They're going to use that as motivation," he said. "If you look at a couple kids from Lansing over the last few years, (they did the same thing). Brandon Craig, when he was a freshman, he was a fifth-place qualifier out of the 5A regional as a freshman and barely made it to state his freshman year. He came back and worked his tail off and became a really good runner. Pete LaMoe has fallen into that same kind of mode. He was 17th last year, but he just kept stepping up each year and got second in 5A this year. It was a big motivator for him in offseason training.
"That's the way it's been for some of my kids, too. A few year ago I took a kid to 4A (state) and he graduated, but the next year we took the whole team because it motivated the rest of the kids to go out there and train in the offseason. That's what you need if you want to have a strong program contending for a state title."