Victory Junction spreading word about future
KC

camp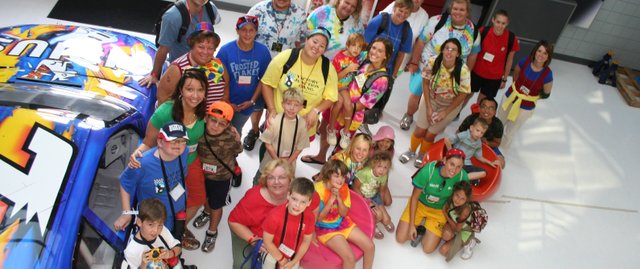 Kansas City, Kan., will be the second site in the country for a camp for chronically ill children that's supported by one of NASCAR's most famous families. But few people know about it yet.
"A lot of people don't have any idea this is coming to Kansas City, and we've been here for almost two years," said Kyle Brenner, director of development for Victory Junction.
That's one reason Brenner will come to Basehor next week for an informational meeting about Victory Junction, a camp started in North Carolina by NASCAR driver Kyle Petty and his wife Pattie in memory of their son Adam, who died in a racing accident during practice.
The meeting, sponsored by the Kansas Beta Epsilon chapter of Alpha Delta Kappa and VFW Post 11499, will take place at 7 p.m. Thursday, Nov. 11, at the VFW Post, 2806 N. 155th St.
At the meeting, Brenner will speak about the camp, show a video and answer questions. The camp will depend on donations and volunteer help, as the existing camp in Randleman, N.C., does now.
"Right now, we more or less need to spread the word," Brenner said.
The North Carolina camp operates year-round and welcomes children with a number of different chronic diseases or disabilities, from autism to Down Syndrome and cancer to diabetes. For some of the roughly 20 different groups that the camp serves, Victory Junction is the only camp available to them, Brenner said. The camp operates year-round, with weeklong sessions during the summer and weekends during spring and fall.
The Kansas City camp will offer the same services, he said.
Liz Wiley, an Alpha Delta Kappa member who helped plan the meeting, said the group decided to work with Victory Junction after a member heard about the camp at a retired teachers meeting in Wyandotte County.
"Anything that helps kids, we're interested in," Wiley said.
She said the meeting was meant for anyone in Basehor or the surrounding communities who's curious or interested in the camp.
Kathy Saving, president of the Alpha Delta Kappa chapter, said the group hoped to build awareness of the camp so it would have willing volunteers in the future.
"It's so close to us, it's just going to supply us with lots of opportunities to do volunteer work and things like that," Saving said.
The property planned for the camp is near 83rd Street and Riverview Road in KCK, but Brenner said the camp may need to switch to another property because of some issues with zoning of the property. He said the organization tentatively hoped to break ground on the camp in spring of 2011 and to open the camp in the summer of 2013.
Brenner said the organization had picked Kansas City as its next campsite for several reasons. For one, Brenner said, Adam Petty had made contributions to some Kansas City organizations, even going to Children's Mercy Hospital after a race to hand over half of his winnings.
Other factors were the presence of Kansas Speedway, home of several NASCAR events, and Sprint, which was Adam Petty's sponsor and now sponsors NASCAR's top racing series.
Brenner said the camp experience at Victory Junction helped not just the children who attended but also their visiting families, who sometimes struggle with divorce, bankruptcy and other problems.
"It's very, very strenuous on a family to have a chronically ill child," Brenner said.
He said the organization estimated the value of a weeklong camp experience at about $2,500, but thanks to donations and volunteers, it's free for the families who send children.
"We need communities that are close by, like Basehor, to be involved," Brenner said.