Rose Hill edges Bonner Springs in state semifinals
Late goal lifts Rockets to 1-0 victory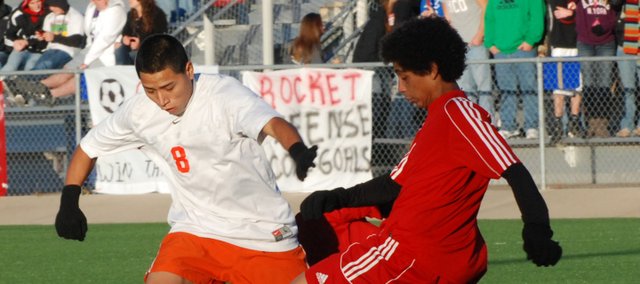 Topeka — Bonner Springs' bid for a Class 4-1A boys soccer state championship was derailed as the Braves fell to powerhouse Rose Hill in the state semifinals, 1-0, Friday at Hummer Sports Park.
Photo Gallery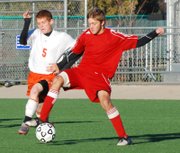 Rose Hill 1, Bonner Springs 0
The Braves had plenty of opportunities, but it was the Rockets who capitalized for the lone goal in the 73rd minute and then held on for the victory.
Rose Hill (13-4-2) will play Wichita Trinity (16-2-2) at 2 p.m. Saturday for the state championship. Bonner Springs (15-2-3) will face St. James Academy (11-7-2) for third place at noon. Trinity edged St. James 1-0 in overtime in the other semifinal match.
The Braves were the aggressors early against Rose Hill as they dominated possession for the first 20 minutes of the game. They created multiple scoring opportunities, including a shot at the left post by Conner Harrington that was pushed wide by the Rose Hill goalkeeper, and another blast by Dalton Vitt that was pushed just wide of the right post.
The state tournament veteran Rockets soon settled in, however, and were in control for most of the final 20 minutes of the half. While the BSHS midfielders and forwards spent too much time dribbling the ball and trying to create one-on-one, the Rockets applied pressure on the Braves' goal. The Bonner Springs back line of Vitt, Caleb Seaton, Jacob Moulin and James Mitchell were up to the task, however, along with goalkeeper Brett Steuart, and they kept the game scoreless at halftime.
The Bonner Springs front line settled into a rhythm during the second half and began stringing together good pass combinations to set up scoring opportunities, but the Braves never managed to find the net.
The teams traded shots, but neither found the net until the 73rd minute when Rose Hill's William Wyatt lined up for a free kick from 35 yards out that tucked just inside the right post and gave the Rockets a 1-0 lead.
Bonner Springs attempted to rally during the final minutes, but shots by Spencer Bush and Harrington went wide and time soon ran out.