91st Veterans Day Parade will be Thursday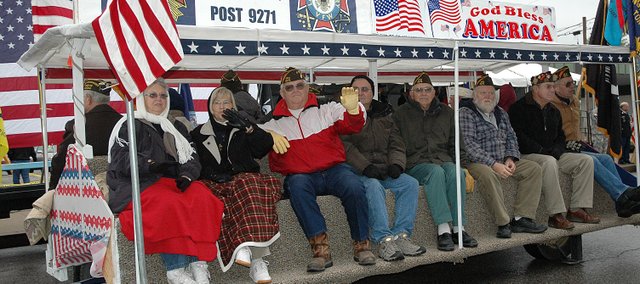 Leavenworth again will be the site for the nation's oldest regional Veterans Day observance. The Leavenworth Veterans Day Parade will start at 10:30 a.m. Thursday in downtown Leavenworth.
This year's parade theme is again "America — Thanks to Veterans." The parade route will start at Fourth and Cherokee streets, move east to Esplanade, north to Delaware, west to Seventh Street, south to Cherokee, and east on Cherokee to Fifth Street, where the parade will disband.
Grand marshal for the parade is World War II veteran Roy Holland. Behind the grand marshal will be Pat Riner in a vehicle honoring her late husband Walt as honorary grand marshal. Walt was a longtime member of the Leavenworth County Veterans Day Parade Committee and a veteran of World War II.
The line of parade will start with bagpipers LTC Rob McWilliams, Dale Clelland, Kevin Reagan and John Bauer and the 15th Military Police Brigade Color Guard, Fort Leavenworth. The parade will stop at 11a.m. for taps with flyover by Leavenworth native LTC Grant Gooch and the Iowa Air National Guard immediately after and a closing flyover of Blackhawks from the 35th ID.
An enlistment ceremony conducted by the KC MEPS will take place in front of the reviewing stand following flyover. More than 225 participants have been invited.
Participation will include: MG John Daveron, Commander, 35th ID Division, Kansas National Guard; Col. Wayne Green, Garrison Commander; the military contingent of Fort Leavenworth; U.S. Reps. Lynn Jenkins and Jerry Moran; 9th & 10th Cavalry Buffalo Soldiers; World War II veterans; mayors of Leavenworth, Lansing and Tonganoxie; the American Legion & VFW Riders; local and state politicians; Boy and Girl scouts; VISN 15 Heartland Director Mr. James R. Floyd and Deputy Director John Moon; Judy McKee, director, VA Eastern Kansas Health Care System; the Abdullah and St. Joseph Moila Shriners; "Sammy" the patriotic clown; area school bands; numerous horse groups; JROTC units featuring the Kansas 931 Air Force JROTC, Washington High School, Kansas City, Kan.; police and fire agencies from around the state of Kansas and Missouri; antique car groups; veteran service and fraternal organizations and more. There will be a military static display from the 35th Infantry Division Kansas National Guard, a Vietnam era helicopter and the Patriotic Project, all staged at Fourth and Cherokee streets in the northwest lot immediately after the parade for public viewing.

Behind the honorary grand marshal will be the 2010 parade chairman, retired U.S. Navy veteran Robert Gillette, and behind him will be the "Returning Hero" float. Emcees for the parade are Mike Howell (Fourth and Cherokee), Bill Wallace (300 block of Delaware) and Dan Wiley (Seventh and Delaware).

Monetary awards will be given for best floats in first-, second- and third-place categories. Floats will be judged on parade theme, "America – Thanks to Veterans," should be visible on either front or back of float or both sides. Juding also will be based on originality, creativity and patriotism.
Staging for the parade is to begin at 9:30 a.m. The public is reminded that there will be no parking on the south side of Delaware from Esplanade to Seventh Street and no vendor selling during staging and duration of the parade.