County Administrator job to stay in place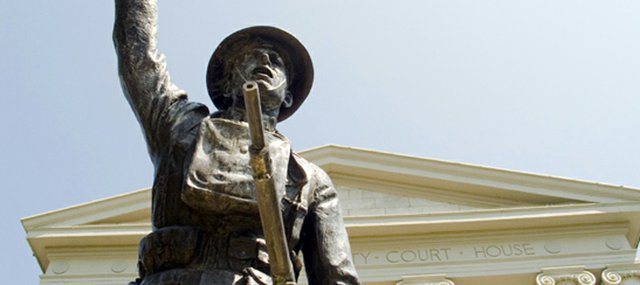 In the end, the Leavenworth County Commission decided to call a spade a spade — or call an administrator an administrator, as the case may be.
The commission unanimously approved a job description for a new county administrator on Monday after hashing out some specific points last week, and the role will indeed keep the title of "county administrator."
The decision concluded more than three weeks' worth of discussion about the future of the position after former county administrator Heather Morgan announced her resignation last month.
In Thursday's meeting, the commissioners settled on keeping the "county administrator" title in the interest of transparency, despite the contentious history that particular phrase brings along.
"It's a county administrator," commissioner J.C. Tellefson said. "We all know what it is."
Leavenworth County voters have twice rejected ballot initiatives to create a county administrator position, in 1998 and 2002. The commission created the position by a resolution in 2008 and hired Morgan as the county's first administrator later that year.
Commissioner John Flower said he thought calling the position something other than a county administrator would amount to deception.
"Here's what's going to happen: 'Not only did you not listen to the voters; you appointed one anyway,'" Flower said Thursday, predicting an outcry from county residents if the name was changed. "'And then when there was trouble, you changed the name.'"
Commissioner Clyde Graeber said he thought the job could accurately be described as a budget and staff director. After a debate between the two, with Tellefson saying he did not care what the position was called, Graeber relented and agreed to proceed with the "county administrator" title.
Aside from the title, the biggest sticking point among the commissioners was whether the new administrator would have the power to hire and fire county employees, as Morgan did. The final description stopped short of giving the new administrator this power, rather allowing the new person to recommend the hiring, dismissal or suspension of employees to the county commissioners, who would then make the final decision.
Graeber, who throughout the discussions on the administrator job had focused on creating a more harmonious environment in the county government, argued against giving the administrator hiring and firing power.
"I truly feel that hiring and firing should be a function of this elected body and that we should not delegate that total power to one lone individual," Graeber said.
Flower argued that requiring approval of the commission for too many decisions would run the danger of keeping the administrator from doing his or her job by requiring him or her to "come back and ask for directions every five minutes."
The commission agreed to keep the salary range for the position the same as it was when the county hired Morgan — from about $82,000 to $92,000, depending on qualifications.