Veterans Day
A closer look at the upcoming holiday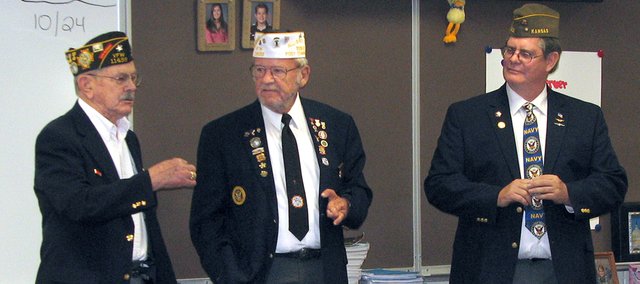 The Kansas Commission on Veterans Affairs presents this information on Veterans Day.
Q: When did Veterans Day begin?
A: While Veterans Day's roots are in Armistice Day, it wasn't until 1954 that President Eisenhower signed a bill proclaiming Nov. 11 as Veterans Day.
Q: What was Armistice Day?
A: Armistice Day recognized signing of the armistice at 11 a.m. on Nov. 11, 1918, (the 11th hour of the 11th day of the 11th month) to end fighting in World War I.
Q: So why was Armistice Day changed to Veterans Day?
A: Realizing that peace was equally preserved by veterans of World War II and Korea, Congress was requested to make this day an occasion to honor those who have served America in all wars.
Q: Has Veterans Day always been celebrated on Nov. 11?
A: A law passed in 1968 changed the national commemoration of Veterans Day to the fourth Monday in October. It soon became apparent, however, that Nov. 11 was a date of historic significance to many Americans. Therefore, in 1978 Congress returned the observance to its traditional date.
Q: Is there a national ceremony for Veterans Day?
A: The focal point for official, national ceremonies for Veterans Day continues to be the memorial amphitheater built around the Tomb of the Unknowns in Arlington National Cemetery, outside Washington, D.C. At 11 a.m. on Nov. 11, a combined color guard representing all military services executes "Present Arms" at the tomb. The nation's tribute to its war dead is symbolized by the laying of a presidential wreath. The bugler plays "Taps." The rest of the ceremony takes place in the amphitheater.