BSHS

places 4th at state soccer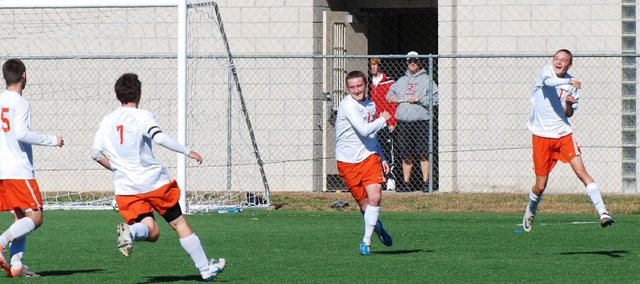 Topeka — As third-place games tend to go no matter the sport, one team shows up hungry for a trophy while the other is too demoralized from the previous day's loss to compete. The result ends up being a blowout.
Photo Gallery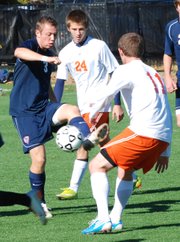 St. James Academy 3, Bonner Springs 2
Saturday was not one of those typical third-place games.
Bonner Springs High School and St. James Academy's boys soccer teams entered the Class 4-1A state consolation finals Saturday at Hummer Sports Park stinging from one-goal losses in the semifinals less than 24 hours earlier. BSHS — making its first trip to the Final Four — had hoped to win the school's first state title in 25 years. St. James — the defending state champion — had dreamed of another title.
Neither team wanted to go home empty-handed, however, and that was clear from the early minutes. After an intense 80 minutes of intense, aggressive soccer that featured multiple miracle goals, St. James squeaked out a 3-2 victory.
The game-winner came with 3:14 remaining, when St. James freshman Steven Enna lofted a high, bending corner kick that tucked just inside the far post. The goal came two minutes after the Braves' Spencer Bush had tied the game.
The Thunder dog-piled on top of Enna after the goal, and minutes later were holding a trophy.
Shortly after the game, Enna described the game-winning play.
"You know how the keeper (Brett Steuart) was just a giant — great hands, great in the air … I saw he was out at the 6-yard box, and that's a far way out," Enna said. "I knew that I probably could've (made the shot), which happened, but mainly it was a cross."
Both teams generated numerous scoring opportunities in the first half, and aggressive defense and solid goalkeeping kept the score deadlocked at 0-0 until the closing seconds of the half.
With time winding down, Bush slipped a pass through the middle of the box that Shawn Jones flicked backwards to a charging Conner Harrington. Harrington then collected the ball in stride and beat St. James goalkeeper Eric Huber one-on-one for a goal and a 1-0 lead.
Harrington's goal came with one second remaining in the half.
"That was crazy," Harrington said of the play. "It was awesome. I had no idea that it was going to be that close, but it was a good ball by Spencer Bush and I just put it away."
The goal sent Bonner Springs into halftime with all of the momentum, but St. James didn't spend the 10-minute break dwelling.
"We'd played hard, and I thought we were playing pretty well, but when we went down, we lost our focus and they capitalized," said St. James coach Rick Enna, Steven Enna's father. "And so at halftime they had to regroup again, and boy did they come out in the second half and they played really well."
Barely six minutes into the second half, St. James turned its one-goal deficit into a 2-1 lead. First, Ian Deggendorf knocked home a goal on what the Braves argued was a handball.
"Whether that's true or not, you can't look back," Bonner Springs coach Mike Moulin said.
The Thunder then took a 2-1 lead four minutes later when Zach Kohlrus fired a throw-in into the box that was knocked into the net by a BSHS defender while trying to clear the ball.
St. James had the upper hand for most of the second half, but Bonner Springs never stopped looking for opportunities. Finally, in the 75th minute, St. James pushed up on offense and Bonner Springs capitalized with a counter-attack. Spencer Frank dribbled down the middle and slipped a pass through to Bush for a goal from about 12 yards out that tied the game at 2-2.
About two minutes later, however, Steven Enna's corner kick found its way in, and the Thunder capped their third straight trip to the Final Four with a third-place finish.
Wichita Trinity, which defeated St. James 1-0 in overtime in the semifinals, beat Rose Hill by a 1-0 score in the championship game. Rose Hill reached the finals by beating Bonner Springs, 1-0.