Coffee shop's offerings expand with new owner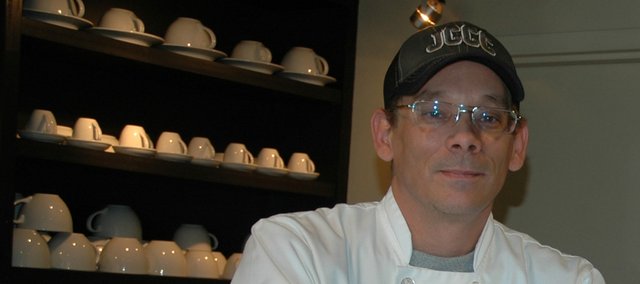 Jeffrey Cook has worn a lot of hats in his career, from working as a corporate trainer for Applebee's to working as a sous chef for the Kansas City Renaissance Festival to owning his own catering business.
Cook's latest career move, however, amounts to the realization of a long-held dream. On Sept. 1, he became the new owner of Coffee at 515.
"I've always wanted to have my own … café bistro," said Cook, who is from Eudora. "I didn't want to have a big restaurant or anything, (but) something small, because personal, I think, is better. I always like to know who's walking through the door."
Cook says he has found these requirements in Coffee at 515, which is in the lobby of the Five Fifteen apartment and business complex at 515 E. Morse. But while the small size of the place and its low-key atmosphere supply the needs Cook has as a business owner, he is satisfying a few needs of his own — namely in the hunger category. Formerly a coffee shop serving only a limited amount of food items, Cook has turned Coffee at 515 into a restaurant as well, offering everything from breakfast items to quiche to sandwiches and gyros.
Some of Cook's best-sellers since he opened have been his two quiche selections — Florentine and ham and cheese — and the grilled Monty Kristo — a sandwich that combines ham, turkey, provolone and Swiss cheeses, and a slice of tomato.
But Cook says he is open to suggestions and even added french toast to the breakfast menu at the request of a customer. He is already on his third menu, he said.
Cook's menu selections are distinctive for their price — everything is less than $5 — and for the quality of the ingredients he uses. Most items are cooked to order and he says it's common to run out of menu items on any given day because he doesn't believe in using anything that isn't fresh.
"Basically, our goal is fresh food, so we do sell out sometimes, but it's always fresh," Cook said. "I don't like to throw away food … fresh to me is the key. Everything here is homemade — either my wife (Shannon) bakes it, or I cook it."
Cook's passion for cooking goes as far back as childhood and the inspiration he took from his grandmother.
"My grandmother worked with me at an early age. I watched her can jellies, tomatoes … that kind of got me interested in it," Cook said.
He also took culinary classes at Johnson County Community College. From a friend in one of his classes, he learned about the coffee shop being for sale. Cook says he was taken with the idea that people live at and work out of Five Fifteen.
"And I like that environment," he said, noting that he is now close with several of the other business owners and residents. "To me, that's kind of what really drew me, is the people that were already here."
Just like the simplicity of his menu, which also includes items such as muffins, breakfast sandwiches and, of course, coffee drinks, Cook says his goal for the coffee shop-turned-restaurant is a simple one, as well.
"That everybody that leaves here leaves happy, no matter what," Cook said. "I just want everybody to leave here happy — that's basically my goal."
Coffee at 515 is open for breakfast from 6 a.m. to 10 a.m. and for lunch from 11 a.m. to 5 p.m. Monday through Saturday. The shop is closed Sundays. To-go orders and after-hours dinner reservations can be made by calling (913) 441-8515.