Service in blood of Army officer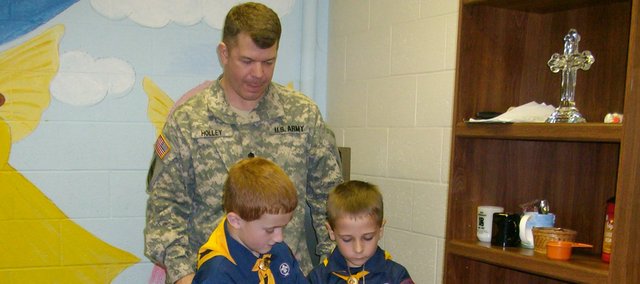 You might say service to country is in Lt. Col. Jamie Holley's blood.
Holley, his father, grandfather and great-grandfather have all made their careers in the U.S. Army.
"Ever since World War I, we've been on active duty," Holley said. "We've fought in every war we've had."
The Bonner Springs resident said dedicating his life to serving his country was never a question for him — something he hopes people will appreciate this Veterans Day.
"Growing up with it, you are exposed to a lot of the pride in the flag, pride in serving," he said. "It was just naturally we picked up on that and wanted to be part of it ourselves, be part of a service that stands and protects the foundation of our country."
Holley started his military career when he was 17, enlisting in the National Guard. He was enlisted in the Guard for seven years before being commissioned as an officer in the Army and going on active duty. This December will mark his 28th year in uniform.
Holley moved to Bonner Springs about 10 years ago when he was stationed at Fort Leavenworth. His family chose Bonner Springs because they liked the program the school district provided for one of their sons, who is autistic.
Holley spent his first 10 years in field artillery, the same field in which his father and grandfather served, before changing to the information technology field, which allowed him to stay at Fort Leavenworth.
"Growing up in a military family myself, it's unheard of that you would stay in a place longer than two or three years," he said. "So I was able to keep both of my boys stable here from elementary through high school."
Holley said his family wanted to remain in Bonner after their first two or three years because they'd grown close to people the community.
"Over time, we just felt more and more a part of the community," he said. "… and I knew that she (his wife) could establish a network here to support her as I went off to different deployments."
Though he has remained at Fort Leavenworth for a decade, Holley has left to serve yearlong deployments in both Korea and Iraq — he just returned from a 14-month deployment in Korea.
He said one of his most interesting deployment experiences was when he was in Iraq as part of a liaison team that worked with the ministry of interior. One of the Iraqi generals he worked with was someone Holley had fought against during Desert Storm.
"What was interesting is we actually became good friends, and we put aside any political differences we may have had from our experiences in Desert Storm, and once we got to know each other, he was no different of a family man than I was," he said. "It's not often that you get to meet an adversary you had in one war, and later in life, become partners in another war."
About five years ago, Holley joined Bonner Springs VFW Post 6401, and he hopes that more veterans of his generation and from the Iraq War will join the VFW.
"I don't think a lot of the younger men who are Iraq War veterans who have left the service fully understand a lot of their V.A. benefits that we can assist them with: getting their V.A. status, keeping it current, evaluating their status and getting them involved in the community," he said.
While Holley is proud that people come up to him and thank him for his service when he is in his uniform or wearing his VFW hat, he hopes those in the community will continue to share their thanks and respect for all veterans.
"I think… my generation that has served in the military has received more acknowledgement of our service than necessarily those did in Vietnam, and clearly that generation missed being appreciated for their service," Holley said. "I think the community is starting to realize that more now."