Volunteer advises 'take it one day at a time'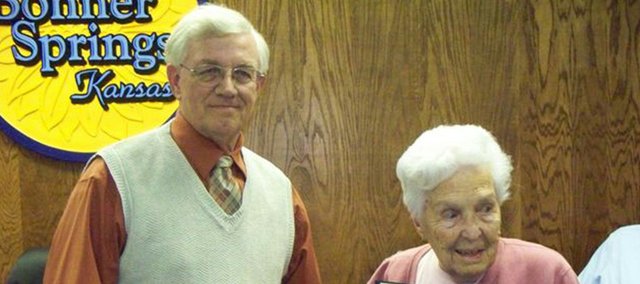 Many in the Bonner Springs community know Muriel Jared for her boundless energy.
The 35 years she taught school, her students commended her for it. And in her 21 years on the board of directors for Vaughn-Trent Community Services of Bonner Springs and Edwardsville, she helped the organization grow from a small annual event to a year-round provider of social services.
Jared was recognized for her service to the community when Mayor Clausie Smith proclaimed Oct. 25 as Muriel Jared day in the city.
Jared resigned from the Vaughn-Trent board in June due to health reasons.
"Besides, I just had my 89th birthday — I have to slow down once in a while," she said.
Jared was born and raised in Colorado and went to college in Atchison. She began her teaching career in Basehor, then moved to Edwardsville and Turner before finally coming to Bonner Springs.
"They say if you teach that long, you either stay young or go crazy," she said. "I think the jury is still out on me."
But most signs would indicate Jared's teaching helped her stay young, as she certainly stayed active.
She got involved in the garden club about 25 years ago and has served several terms as its president. She retired in May of 1985 with the hopes of traveling with her husband. But after his death in 1986, she found herself looking for something to do.
She asked around in the community and learned that Marion Vaughn was creating Christmas baskets for those in need, so she helped out. In 1989, she helped found Vaughn-Trent and began serving on its board of directors, watching as it turned from a group that organized Christmas baskets into a service that provides food, utility support and other assistance to those in need year-round.
She served as the board's treasurer, took responsibility for the annual fund drive and in 2002, she received the Marion Vaughn Community Service Award.
In her 21 years on the board, Jared said the things she enjoyed the most were "the people I worked with and the fact that I thought we were doing some good," as she said. "I'm going to miss the people there."
Jared said she loved knowing that all the work that Vaughn-Trent did benefited the people in Bonner Springs and Edwardsville.
"The thing about Vaughn-Trent is it's all local," she said. "It all stays here in Bonner."
Now she continues some of her favorite activities: reading, playing bridge, solving Sudoku puzzles and watching basketball games. She encourages others to volunteer their time to Vaughn-Trent and stay active in the community. She said staying active is easy when you just focus on the next step.
"I just took one day at a time," she said. "That's the only thing you can do, is take it one day at a time."