Love affair with pumpkin sated - for now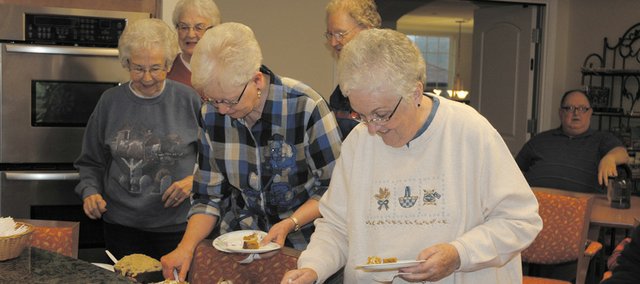 I am in a serious and lasting relationship.
We have our ups and downs of course, which usually present themselves in the size of my waistline. But it's going well, despite the fact that I only see the object of my affection around holidays like Thanksgiving and Christmas. It's true that almost more than life itself — that is how much I love pumpkin pie.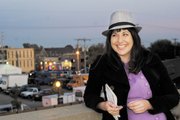 Related document
Related document
Related document
So choosing to participate as a guest judge in a pumpkin dessert contest wasn't a difficult decision to make. What was difficult, however, was choosing the best from seven amazingly rich and delightfully inventive pumpkin recipes that ranged from, oddly enough, only one pie to pumpkin chocolate chip cookies.
The contest was Friday afternoon at Shawnee Hills Senior Living, a retirement community that I am now convinced may also house some of the most skilled bakers of pumpkin deliciousness I have ever come across. Angie Johnson, activities director, said this was the first pumpkin dessert contest at the center, though I was a bit sad to find out I had missed out on last year's contest, which was strictly a competition among the best pumpkin pies.

But I was quickly mollified upon seeing the array of desserts I would be tasting: pumpkin bread, a pumpkin roll, pumpkin crunch, pumpkin chocolate chip cookies, a turtle pumpkin pie, punkin' cheesecake cupcakes and one dessert that was called the Great Pumpkin Dessert, which was made by David Russell, Shawnee Hills executive director.
The contest was open to both residents and staff members, with prizes of $10 to $30 Walmart gift cards going to the top three winners. My fellow judges were Brian Brown, community relations director with Sharon Lane Health Services, and Chris Dressel, Shawnee Hills' director of dining services.
With a roomful of expectant residents watching, we dug in. Each dessert had to be judged from 1 to 5, with 5 being the highest, based on overall appearance before slicing, texture, aroma and taste. So while all of the desserts tasted good, with a few them tasting exceptional and one or two tasting so good I haven't yet been able to stop thinking about them, some of the desserts lost points based on other judging components.
My favorite was the pumpkin crunch, made by resident Dixie Kreider, which was similar to the Great Pumpkin Dessert in that it was made with your normal array of pumpkin pie items but also included in its ingredient list a box of cake mix. Did I mention I like cake almost more than life itself, as well? It was crunchy, sweet, pumpkiny, wonderfully-smelling goodness in a casserole dish — a dish that maybe doesn't allow for the best presentation. Sadly, this dish didn't make it to the top three. Those desserts that did, however were:
• First place: the pumpkin roll, made by resident Donna Ward
• Second place: punkin' cheesecake cupcakes, made by Johnson
• Third place: turtle pumpkin pie, made by resident Clara Smith
After the contest, the residents filed in line to try samples of each of the desserts, while my fellow judges and I tried to recuperate from how much pumpkin dessert we had just eaten. Dressel said he had a headache, Brown said he was ready for a nap. I felt as if I had just eaten an entire pumpkin pie by myself, which was good for my heart and soul but bad for the growing feeling of nausea in the pit of my stomach.
Still, the desserts themselves and one comment from resident Arnold Ward, who told me I had a doppelganger in the form of an actress on "Young and the Restless," were well worth the many hours it took me to recover after the contest. And I am still, by the way, thinking about that pumpkin crunch.