Bobcats not satisfied with 9-1 season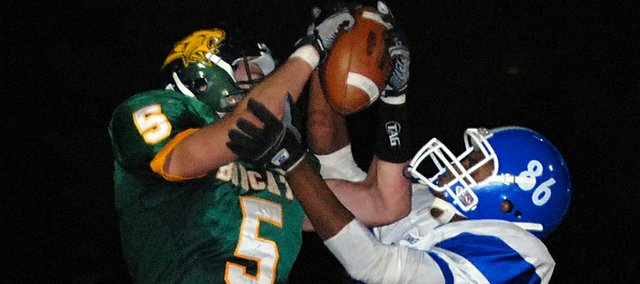 Basehor-Linwood went undefeated through the football regular season, which was quite an accomplishment considering where the Bobcats started the season.
They had to find a new quarterback and numerous other new starters to replace 20 seniors from a year ago. The Bobcats handled that transition with relative ease, going unbeaten in the regular season and winning their second-straight Kaw Valley League championship. They went on to add a district championship as well.
The nine victories were the most in a season in BLHS history, but a 10th victory didn't happen as the Bobcats were shocked by Sumner Academy in the first round of the Class 4A state playoffs.
It was a bittersweet ending to what was an otherwise remarkable season at Basehor-Linwood.
"If you had told me at the beginning of the season that we were going to be 9-1, I would say 'that is outstanding' and be very pleased, to be quite honest," BLHS coach Steve Hopkins said. "It is a lot of fun when things are going well. They did something no one else had done."
Colin Murphy replaced Brandon Leppke at quarterback and set a school record for yards passing in a season with 2,020.
"Obviously he had a tremendous year, and you wonder how he would have done if he were healthy," Hopkins said. "I don't know if he was healthy for parts of three games."
Ryan Murphy had more than 1,000 yards receiving.
On defense, Basehor-Linwood held opponents below their scoring averages throughout the season, and the Bobcats had numerous players step into roles that had been vacated by last year's seniors.
"The highlight was seeing some of those kids who really shocked us by their play this season," Hopkins said.
Examples of those players dotted the gridiron.
Steyr Stubenrauch was a tremendous running back and clutch receiver for the Bobcats. On defense, he played every position but nose guard for the Bobcats ranging from the secondary to defensive line.
The team's linebackers played well all season. Coming into the year, Hopkins said Chandler King and Jesse Hiss and looked strong, but Hopkins noted that Dalton Mellies had a simply outstanding year and was a bit of a surprise.
"Our linebackers we feel were as good as anyone in the league and in the area," he said. "Our defensive line and linebackers were the strength of our team. I knew we had one returning lineman in Caleb Johnson, but Ben Johnson and Drew Potter were absolutely wonderful."
On the offensive line, sophomore Josh Barnes was another player that stepped up and had a strong season.
"Those are the kids that impressed me. They took a veteran's spot and played well and played better," Hopkins said. "They did things not many thought they would do."
In the end, the Bobcats had numerous players step up and help the team reload. This year's team will lose just seven seniors to graduation. That means a talented crop of veteran players will return next season and give the 2011 Bobcats a solid foundation.
"That is where we want to be," Hopkins said. "We want to excel and not fall off in years where we have to replace a large group. I was encouraged that this year's group outdid last year's group in terms of record and things like that."
Now, Hopkins enters into the offseason in search of answers.

The pain of a first-round loss in the playoffs drives him to work harder. The team made so much progress during the regular season that the playoff loss to Sumner Academy hurts. Basehor-Linwood rallied from 20 points down in the third quarter to pull within 24-22, but eventually Sumner Academy pulled away for the 36-22 victory.
Hopkins understands only one team is happy at the end of the season. He also knows that sometimes opposing players and teams simply make more plays to win a game. He understands that to win in the postseason, players have to make plays.
On the other hand, though, Hopkins plans to look at what he can do to win more playoff games. He plans to look at ways he can put his players in position to have more success. While he has ideas, Hopkins plans to sit down with coaches from other schools and evaluate how they do things on the short week (between district play and the playoffs), perhaps finding an idea that will help his team gain more success in that first-round playoff game.
"Well, everyone approaches it a little differently," he said. "Some go hard the day before the day of a game and others don't. All agree Saturday and Sunday are key practice days. I don't know if it was practices issues; it came down to making plays, and we did not make as many plays as they did."
Hopkins said he has replayed the game in his head at least 30 times. At the team's coaches meeting, he said it was important for them to recognize the good things they had accomplished this season and also try to understand what went wrong in the playoffs.
Still, Basehor-Linwood is an ascending program that has won 17 games during the last two seasons.
Hopkins plans to review tape of each game and look for things that he can improve on for next season. He plans to focus on the team's red zone offense and look at ways to make it more successful.
"That is going to be a huge focus in the offseason," Hopkins said. "We will talk to colleges and look at opportunities to see what we can do differently inside the 20. We had too many penalties inside the scoring zone. Now I don't know the answer. We had crucial penalties."